Filling Aspas's boots is a huge task, and only a special one can do it right. LOUD has resigned one of their players and added a prodigy pub star in hopes of replacing their star player.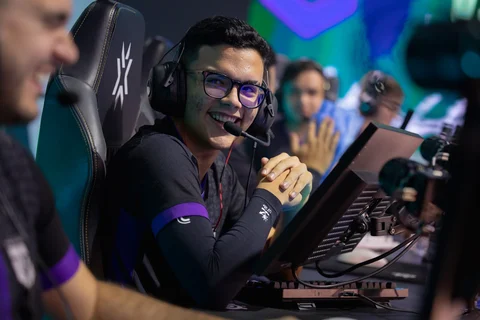 The transfer saga and drama around Aspas ended about a week ago when he and LOUD officially parted ways. While rumors were different about his fate, he did not join Sentinels right away, and will probably pursue a different path. LOUD couldn't defend their title at this year's Champions 2023, and while their placement was high finishing 3rd isn't something they will be satisfied with.
Saadhak Remains As LOUD IGL
LOUD have a lot to work on in this off-season, and resigning their IGL seems to be their first step in the right direction. Matias joined the team after the Sacy-pAncada duo left to join Sentinels, and it seems like they are satisfied with what he has to offer to the team. Initial rumors were he was close to signing a deal with NRG, but it seems like that one will go down in the water as Sentinels have announced that Saadhak will stay as their IGL this season as well.
LOUD Sign Havoc To Fill Their Empty Duelist Slot
Young prodigies are breeding grounds for future superstars, and LOUD seems to have found theirs in Ilan. Havoc is a Brazilian player that last played for The Guard, and has been on the looks ever since. A 17-year-old pubstar with very promising talents was more than enough for LOUD to give Ilan a chance. The deal hasn't been confirmed yet, but the rumors and leaks are spread everywhere, and LOUD are expected to spill the tea at any moment now.
"Hey guys,

I came here to give you some news: my contract with LOUD has ended and with that I am a free agent and open to hearing proposals. "I can speak English and Portuguese"

I would like to thank LOUD for these 2 years and for everything they did for me. I also want to... pic.twitter.com/Al4RZCQn8p

— LOUD aspas (@loud_aspas) September 11, 2023
On the other hand, even though there was immense interest in Aspas and several teams were rumored to try him out, there are still no rumors about him trying for any team. Sentinels found their missing IGL piece in johnqt, and with their recent signing of Zellsis, that door is probably closed for Aspas.
Where Will Aspas Go Next
According to rumors, Aspas has been trying out for several teams in the previous period, and here's what the most likely outcome of them:
Leviathan has been trying him out and seems to be the most likely destination for Erick
Both NRG & Furia have also been in talks with him, but have a lower chance of signing as compared to Leviathan
While these pieces of information have been somewhat confirmed by sources on X, take them with a grain of salt. Knowing what Valorant's pro scene looks like, he could be ending up in the EMEA region and completely negating the rumors surrounding him. One thing's for sure, whoever takes him will bring a massive crowd of fans that will support Erick wherever he goes, and hopefully the pressure won't be too much on his new team.
For more offseason news: