Leviatán became the first team to qualify for the double-elimination bracket in Valorant Champions.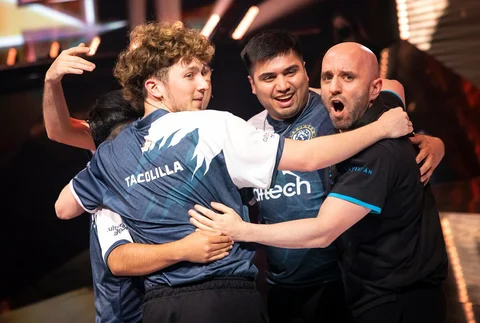 Leviatán proved that their convincing victory Team Liquid was no fluke after taking down Masters Copenhagen runner-ups Paper Rex in a convincing 2-0 fashion, making the LATAM representative the first team qualified for the final Valorant Champions double-elimination bracket.
The team commanded by former KRU Esports head coach Onur maintained its signature aggressive style that's characterized the LATAM region these past couple of years - similarly to what we could see in their match against Liquid, their ability to mix the tempo when required was enough to destabilize a Paper Rex that look extremely composed against EDward Gaming.
In fact, Leviatán showcased that winning all four pistol rounds against Liquid was more on the back of their incredible read on rotations than the EMEA squad's inability to adapt as they would go on to do the same versus the APAC team.
An interesting and key improvement from the Leviatán side that's enabled them to tip things in their favor during clutch situations is the percentage of traded kills they've been getting in Champions. According to analyst and caster Josh "Sideshow" Wilkinson, they are trading almost 20% of their kills, a fifth of them, which may not seem as much to the uninitiated but allows them to avoid disadvantageous scenarios more consistently than other teams.
Leviatan's trading at Copenhagen: 13.6%

Leviatan's trading so far at Champs: 19.5%

From absolute bottom of the pack team-play to EXCELLENT support for each other, it makes all the difference.

Helps when you win every pistol round & Shyy/kiNgg/Taco hit every shot too!

— Josh Wilkinson (@SideshowGaming) September 1, 2022
Of course, you can't trade if you're not hitting your shots, and that's exactly what Leviatán has been doing thus far. Over the course of both maps, all five members of the team reached at least 30 frags, with Fade player Fabian "Shyy" Usnayo dominating the server with 45 total kills - on the other hand, only Khalish "d4v41" Rusyaidee surpassed the 30 kills mark, with his teammates sitting far behind Leviatán's numbers.
.@ShyyFab just took over and got the ACE! #VALORANTChampions pic.twitter.com/wKwuUoGY4A

— VALORANT Champions Tour TR (@ValorantEsports) September 1, 2022
With this victory, Leviatán now sits comfortably waiting for an opponent in the double-elimination bracket which is set to kick off on September 9 - meanwhile, Paper Rex is waiting for the winner of the Team Liquid vs EDward Gaming match to compete for the final qualifying spot in Group A in a do-or-die situation for all squads.
EDG and Liquid will play on September 4 with the winner facing Paper Rex on the 5th.
For more content: