Despite not qualifying for Champions Sentinels is still making moves by adding one of Valorant's most popular content creators.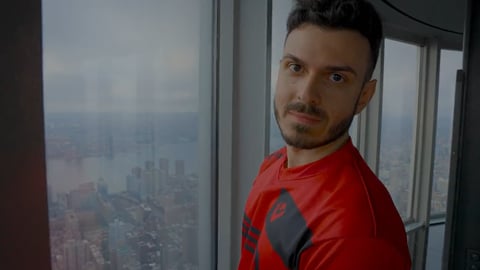 While the North American organization failed to meet expectations competitive-wise in 2022, there's no denying they're one of the biggest orgs in the entire Valorant ecosystem, which is why the signing of Tarik Celik is a match made in heaven.
The announcement was made via social media with a quick video that quickly garnered over 1 million views and thousands of retweets. Take a look at it down below.
On top of the world, right where he should be@tarik officially joins Sentinels pic.twitter.com/olye21VE9x

— Sentinels (@Sentinels) August 30, 2022
Tarik, a former CSGO star, switched from Valve's to Riot's shooter in 2021. With no intention, as of right now, of competing at a pro level, Tarik focused on creating and developing his content creation, quickly becoming one of Valorant's most-watched Twitch streamers, consistently topping the charts within the category.
A combination of wits and amazing raw talent cemented him as a perfect gateway into the world of the tactical shooter, we ourselves ranked him as the number one Valorant streamer you should watch, by the way.
Tarik Will Stream From The Valorant Champions Grand Finals Stage
The signing of Tarik will allow Sentinels to be part of Valorant Champions in a way, as the streamer will be broadcasting live from the grand finals stage of the event, as confirmed by the org themselves.
Co-streaming has become a massive source of viewership for Riot events, with top content creators relishing the opportunity of seeing their view counts get a bump as they get wrapped in the excitement of international and offline competition.
According to Stream Charts, Tarik averages around 32k viewers per stream, with his most recent one after the Sentinels announcement peaking at a little over 50k.
If you're worried Tarik will be in any way censored now that he's signed under an org, he said in a follow-up video:
Sentinels knows that I'm gonna continue to be myself, they don't want me to hide who I am. I'm will continue to be critical of them, what I see, how they perform - maybe it'll add a little bit of fire under them to push them further.
Finally, Tarik hinted at being used as an emergency sub if needed but warned fans that they shouldn't really get their hopes up.
I still got that competitive nature in me don't get me wrong, but I don't like to diddle daddle - I wanna make sure If I'm doing one thing I'm straight up in it, but if someone hurts their hand, not feeling well, you ring me up and I'll be there.