By this point it shouldn't come as a surprise that LATAM Valorant teams are no pushovers, however, Team Liquid was stunned in convincing fashion.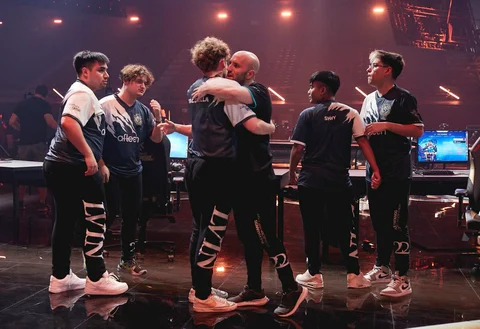 The first day of Valorant Champions gave fans their first upset - that is, if you still consider LATAM a minor region after their incredible performances at previous international events. Regardless, Leviatán winning against Team Liquid was not an outcome many had predicted.
Coming as the top seed from the LATAM region on the back of a decent performance at Masters Copenhagen where Leviatán managed to eliminate XSET before bowing down to Fnatic in a frantic three-map series, it seemed the squad was poised to make some noise at Champions - none expected they'd start out with a bang, however, convincingly sending Liquid to an elimination match with EDward Gaming 2-0 with no OT required.
The way Leviatán managed to overtake Liquid was thanks to its precise set play execution that netted them important rounds on a constant basis - every single pistol round went their way and even when the economy forced them to use Stingers and Sheriffs against a fully decked Team Liquid, they somehow managed to turn things in their favor.
La Levianeta no perdona ninguna ronda de pistols...
4K para @ShyyFab @LeviatanGG | #VALORANTChampions pic.twitter.com/FC9FewYn7p

— VALORANT Esports LATAM #VALORANTChampions (@valesports_la) August 31, 2022
Constantly breaking Liquid's momentum, Leviatán also built their victory on the back of two strong starts on both Liquid and their own map picks - they went 5-0 defending on Haven and 4-0 as the attackers on Ascent, forcing Liquid to play catchup the entire series.
Sadly for the EMEA reps, they were simply unable to find the solution for the quick change of pace Leviatán threw at them - as soon as they thought they'd figured it out, the LATAM team switched gears and shut down their approaches such as the one below:
That was a QUICK round! @LeviatanGG | #VALORANTChampions pic.twitter.com/MH4rop6vzu

— VALORANT Champions Tour TR (@ValorantEsports) August 31, 2022
Now, Leviatán is set to face Paper Rex on September 1. The winner will move into the final double-elimination bracket and the opportunity to play in front of a live audience. Meanwhile, Team Liquid will face off against EDward Gaming in an all-or-nothing match, with the one emerging victorious playing the loser of Leviatán vs Paper Rex as they fight for the second qualifying spot.

For more content: