Hours before their debut at Valorant Champions, Riot Games announced that a member of OpTic had tested positive for COVID-19, forcing the player to isolate. 100T also confirmed COVID cases.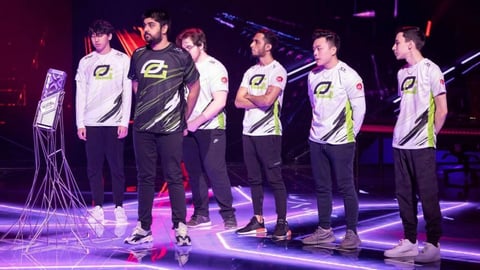 Despite the safety precautions taken by Riot Games, OpTic Gaming will have to make do without their coach Chet Singh as he has tested positive for COVID-19 ahead of their Valorant Champions debut vs BOOM Esports on September 1. 100 Thieves will also have to deal with a total of six members contracting COVID.
The announcement was made by Riot Games hours before the match, revealing via social media that teams undergo mandatory testing on a regular basis with a recent PCR test coming out as positive for the OpTic coach.
An update on #VALORANTChampions Istanbul. pic.twitter.com/5a8HSZlCx7

— VALORANT Champions Tour TR (@ValorantEsports) September 1, 2022
In the event of a positive COVID-19 test, Riot has a contingency plan already set in place in case the affected feels well enough to take part in the match, as explained by the statement:
The affected player will play the scheduled match on a LAN network built in the isolation facilities. The individual who tested positive will participate from an isolated room while their teammates and the opposing team will compete from the venue.
Chet explained via Twitter that he had tested positive "two-three days ago," and that he wasn't "able to recover at all so far."
I tested positive for COVID 2-3 days ago, definitely very unfortunate circumstances but Riot and also some members of 100T have provided stuff for me to get through this. Wasn't able to recover at all so far but I will get through this. https://t.co/RKDAJV94MI

— OpTic Chet (@chetsingh) September 1, 2022
As we've mentioned, one of the other North American organizations competing at Champions has also struggled with COVID-19, 100 Thieves. General Manager Daniel "ddk" Kapadia confirmed a total of four players and two coaches have tested positive, making it all but impossible for the org to play on-stage during their debut vs Fnatic on September 2.
Four of our players and both coaches got COVID four days ago. Everyone is recovering quickly. This is why we were absent from the press conference and some content.

We are focused, the attitude is strong, and it won't stop us from giving it our all .#100win #VCTChampions

— Daniel Kapadia (@ddkesports) September 1, 2022
It'll remain to be seen if more COVID cases occur during the event or, hopefully, these become the only confirmed cases moving forward.
For more content: