In a runback of their first match at Valorant Champions, Fnatic came out swinging and eliminated 100 Thieves from the competition.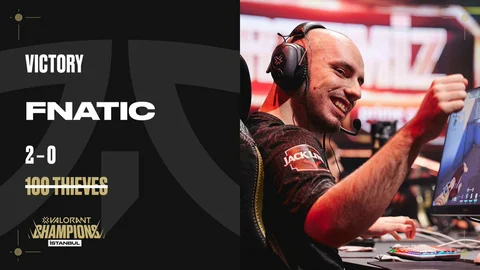 Despite 100 Thieves taking the win during their first match in Valorant Champions, Fnatic ended up coming out on top in the decisive one that saw the European side qualify for the double-elimination bracket at the expense of North America's representative.
After failing to punch their ticket to the double-elimination bracket against DRX, 100 Thieves came in confident of beating Fnatic once more, who had to play a tough match versus FURIA to keep their hopes alive.
During their first encounter, 100 Thieves had to play in isolation due to COVID-19 affecting the team. Despite this, they still managed to come out on top. This time, with the entire team playing at the venue in Istanbul, the situation was extremely different as they were completely outclassed by Fnatic.
Both Bind and Ascent were dominated through and through by the EMEA representatives. The first map, which was the same Fnatic took during the series they lost 1-2 against 100 Thieves to kick off their Champions journey, was a complete stomp, as the NA team only took five rounds away from Fnatic.
What's interesting is that 100 Thieves wasn't able to convert on their first kills. Duelist William "Will" Cheng would end Bind with the highest number of FKs in the server, with five. In total, he'd rack up nine during both maps, one more than Fnatic's best performer in this category, Nikita "Derke" Sirmitev.

It wasn't necessarily Fnatic out-aiming 100 Thieves. Sure, Derke dropping 38 kills during both maps is outstanding, especially if we consider that they weren't particularly close, but that's far from a record-setting number.
The big difference between both teams was 100 Thieves' inability to secure rounds off of numerical advantages, which spoke volumes of how well Fnatic had prepped for both maps, showcasing a better understanding of utility usage and trading kills properly. We, of course, had the occasional clutch play to secure key rounds.
HE WINS THOSE @Alfajervl pic.twitter.com/beaZtssRpR

— FNATIC (@FNATIC) September 8, 2022
Now, Fnatic will get ready to play XSET on September 10, meanwhile, 100 Thieves will have to start planning for the future with franchising coming in 2023.
For more content: