One of the most anticipated Valorant Champions group stage matches did not disappoint as 100 Thieves inches closer to the double-elimination bracket.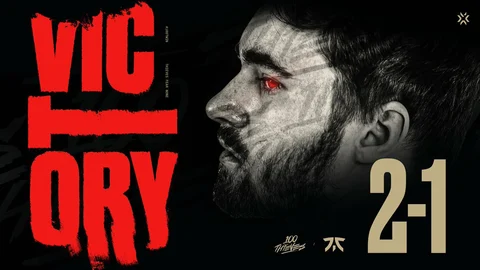 The long-standing rivalry between North America and Europe has become a classic standoff in every esport, and Valorant is no different, with 100 Thieves defending the honor of NA against Fnatic in their first match during the Valorant Champions group stages.
100T, the final North American team that qualified for the event, doing so via the LCQ in which they crushed the dreams of thousands of Sentinels and Shroud fans, presented a vastly different look as they shocked everyone by playing superstar Peter "Asuna" Mazuryk on Sage, a far cry from his usual picks that include Agents like KAY/O, Neon, or Raze.
The pick came hand in hand with both teams still figuring out how to play Pearl, the latest map added to the game. For 100 Thieves, Asuna's clutch usage of Sage utility was key to secure several rounds - the Agent's wall can close out key areas of sites since they feel claustrophobic, particularly B.
It also helped that 100T opted to ditch the Chamber in favor of two Controllers like Astra and Viper. As teams are quickly realizing, the advantages of the Sentinel in a relatively tight map sans B-main are neutered by having plenty of utility to flush out players and deny what little sightlines an angles a Chamber could hold with an OP.
Sure, Derke still top-fragged for Fnatic with 23 kills, but 100 Thieves attack looked sharper than Fnatic's, winning seven rounds in total. Speaking of players that popped off, we have to mention William "Will" Cheng, who dominated the server from start to finish.
RUN IT UPPP @100T_Esports win their #VALORANTChampions debut! pic.twitter.com/S1NCmC9xAh

— VALORANT Champions Tour TR (@ValorantEsports) September 2, 2022
66 kills, 23 more than the second-best performing 100 Thieves player (Asuna), 14 First Kills, and 186 Average Damage per Round were enough to comfortably secure him the man of the match nod at the end.
Now, 100 Thieves will have to play DRX for a spot in the final double-elimination bracket. In turn, Fnatic will take the long route first facing off Brazil's FURIA Esports - if they win there's one more match waiting for them before they reach the final bracket.
For more content: