Valorant Champions has already given us some incredible moments, with OpTic's Crashies Ace surely to become a memorable one for years to come.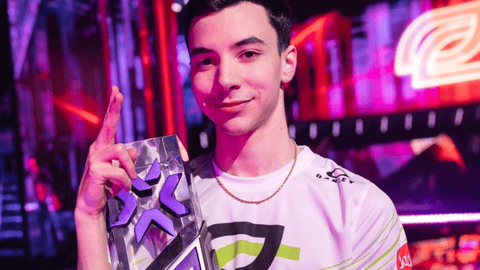 The first two days of Valorant Champions have been filled with amazing plays, incredible upsets, and much more. Leviatán coming out on top against Team Liquid and Paper Rex stunned the community, but what OpTic Gaming's Austin "crashies" Roberts did against BOOM Esports could become one of the most incredible moments in the entire competition.
Let's set the stage - After BOOM Esports shocked OpTic, who had to play without their coach Chet at the venue due to COVID-19 restrictions, taking map 1 of the series in dramatic fashion 18-16, the Masters Reykjavik clapped back with authority - they won Bind 13-5 and were on course to stomp the APAC team even harder on Fracture.
Running out of ideas during their attack, undecided whether they should full stack A main, the entirety of BOOM decided to take ropes to see if cracking open A from Satellite or maybe attempting a split going B as well, would work - much to their demise, Crashies had a read on the play, eagerly waiting for them, all lined up to give grant him one of the most bizarre Aces in competitive Valorant history.
NO WAYYYYYYY @Crashies #VALORANTChampions pic.twitter.com/2GhnwMHMy1

— VALORANT Champions Tour TR (@ValorantEsports) September 1, 2022
If you're unaware, there's absolutely no way to stop you from moving while on ropes, at most you can slow your movement speed by pressing your Left Shift key or whatever you use to walk. This, naturally, makes your shots extremely inaccurate, requiring more than a dash of luck to land a headshot on any target.
The clip went viral on social media, with over 17k retweets and 1.1 million views on Twitter alone. Crashies would jokingly comment on it saying that it was the best ace of his career. Ace, in case you're new, is a moment in which a single player kills all five enemy opponents.
The best ACE of my CAREER!!!!! https://t.co/0fWUDc2ToT

— OpTic crashies (@Crashies) September 1, 2022
The moment completely boomed BOOM Esports (no pun intended) as they went on to lose the map 13-3. Now, the APAC squad will look for redemption against Japan's ZETA Division - on the other hand, OpTic will play for a spot in the double-elimination bracket vs Brazil's LOUD, in a rematch of the Masters 1 grand finals.
For more content: