If you are having a low-end PC and worry that it will stop you from getting into Radiant, then don't worry – these settings will help you get the best possible performance in Valorant!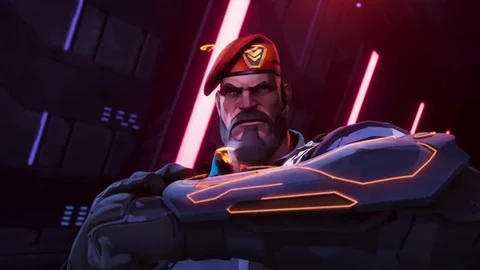 Not everyone has a super jacked hardware like TenZ, and actually, a big portion of Valorant players is still playing on their old PCs. And well, they still want to get good at the game and improve, but lags and crashes is something that demotivates them from doing so. That said, let's check out the best settings you can use to take your Valorant experience to the next level and climb ranks without any distractions or errors. It's also worth mentioning that you might want to try out these settings on a better PC if you really care about getting the most FPS.
The Best Valorant Settings for Old & Low-End PCs
General Settings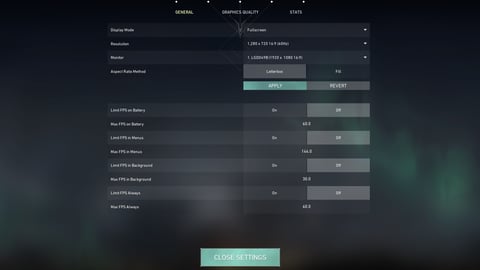 | | |
| --- | --- |
| Setting | Value |
| Display Mode | Fullscreen |
| Resolution | 1280 x 720 |
| All Limit FPS Options | Off |
The general settings are pretty standard, although it could be weird to see a 1280 x 720 resolution, but it can really boost your FPS values and make the game less glitchy. Moreover, all the FPS limits exist just to limit your gameplay experience, and there is no need to have them on in pretty much no scenario.
Graphics Quality Settings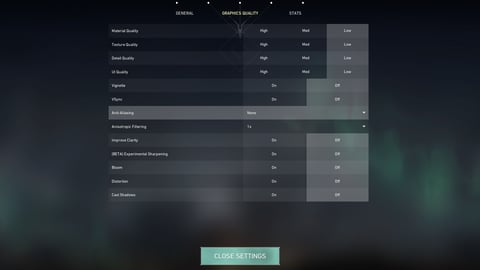 | | |
| --- | --- |
| Setting | Value |
| Material Quality | Low |
| Texture Quality | Low |
| Detail Quality | Low |
| UI Quality | Low |
| Vignette | Off |
| VSync | Off |
| Anti-Aliasing | None |
| Anisotropic Filtering | 1x |
| Improve Clarity | Off |
| Experimental Sharepning | Off |
| Bloom | Off |
| Distortion | Off |
| Cast Shadows | Off |
To maximize your Valorant's performance on a low-end PC, you should set all graphics settings should to their lowest values. The visuals may not be the most impressive, but that's not really necessary in a game like Valorant (unless you are streaming). If you are willing to risk a drop in FPS, you can try turning on Bloom and Distortion, but that also depends on how low-end your PC is; most of the time, we advise you to leave them off.
Stats Settings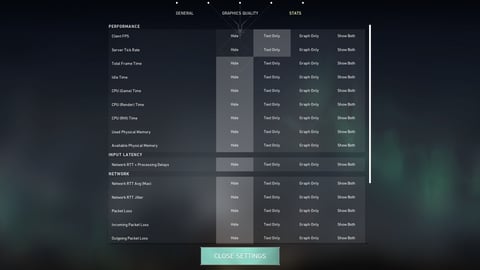 The last settings we're going to look at for Valorant on a low-end PC are the Stats settings. They are not the most important for enhancing the gameplay experience, but they provide useful information to help you keep an eye on how things are running and if you are experiencing any drops. So, the optimal stats settings for Valorant on a low-end PC should look as follows:
| | |
| --- | --- |
| Setting | Value |
| Client FPS | Text Only |
| Server Tick Rate | Text Only |
| All other statistics | Hide |
Both Client FPS and Server Tick Rate will appear in the upper left corner of your screen, allowing you to monitor your game's performance; Client FPS will give you the exact figure of your frames per second, while Server Tick Rate will display your ping.
Apart from that, it's best to keep the other stats hidden, as too many can lead to a disorganized display that can cause Valorant to run slowly on lower-end computers.
More Valorant Guides: