LCQ's are enough of a reason to stress just by the fact that this is the last chance to get a shot at playing at the most prestigious event in Valorant.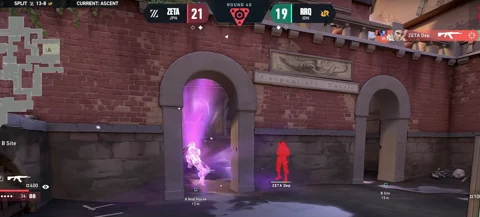 Long games tend to have a bigger toll, and the outcome can be tiring physically and mentally. There have been records before, like The Longest Match in History of Valorant, but that's just a pub record. A VCT LCQ game going 40 rounds can be a thing of beauty.
Longest Valorant Game In VCT History?
Well not quite, but it's up there. After the Zeta vs RRQ game a ton of people were asking themselves (and Google) whether they've witnessed history and this is the longest game in VCT History, because it sure felt like one.
2-1 gg
OT is always fun

— ZETA Dep (@Dep_ow) July 20, 2023
In terms of statistics here are the games which were longer than this one:
VCT 2021 EMEA League 3 Challengers Playoffs: forZe 24:22 FunPlus Phoenix

VCL 2023 Vietnam Split 2: The Mad Men 22:24 TWOKAY
VCL 2023 Japan Split 2 Open Qualifier: teamduration 25:23 Taikao Motto Huete
These are the only pieces of information we could gather from the data available about the matches getting to the "later stage". So, we can conclude that the Zeta vs RRQ game isn't the longest Valorant Game in VCT history, but there is only one game above it so there's that.
Zeta Beats Rex Regum Qeon In A 40 Round Decider Map
40 rounds of INSANE VALORANT in Ascent! #LCQPacific pic.twitter.com/RlW6l4Aaq3

— VCT Pacific @ LCQ (@vctpacific) July 20, 2023
Enough about stats and records, let's talk about the game itself. Valorant games are known to almost never have an expected outcome. Map 1 was Haven and RRQ annihilated Zeta in a way that Deadlock uses her ulty and you have no breathing room.
Haven ended 13-2 in favor of RRQ, and Zeta looked hopeless on that Map. Fast forward to Split which was the second Map we saw a whole different Zeta with clearer plays and Dep was just starting to wake up in the series.
Relive the final moments of @zetadivision's EPIC win from the @valesports_jp broadcast! JP#LCQPacific pic.twitter.com/PzVKEK7EGC

— VCT Pacific @ LCQ (@vctpacific) July 20, 2023
Dep Breaks The Kill Record On Lan
There was no better time for Dep to break the record than now. Even though he played quite slow and was unlucky in a couple of situations Map 3 was his time to shine. The Child of God made sure that there was no way Zeta drops down to the lower bracket, and this was his time to prove his worth.
He finished the game with 42 kills in the second-longest game in VCT history.
.@Dep_ow just broke the kill record on LAN with 42 kills.

He delivered the winning kills in round 40 too.@zetadivision needed a savior, the child of god answered the call. #LCQPacific pic.twitter.com/rOodgOWN3m

— VCT Pacific @ LCQ (@vctpacific) July 20, 2023
The way he got to the record was nail bitting and deserved every ovation and Twitch chat hype that got to the moment. In the last round, where the game is 20-19 for his team the spike is planted and he needs to defend it versus two.
On Ascent he sits on Boat and patiently waits for the right moment to come. He frags both, clutches the round and everything else is written in the VCT history books.
THE CHILD OF GOD FTW #LCQPacific

https://t.co/h4MPtwWN1N pic.twitter.com/2yX7Q0Z8sz

— VCT Pacific @ LCQ (@vctpacific) July 20, 2023
Zeta Division vs Rex Regum Qeon Match Stats
Here are the stats for the game:
| | |
| --- | --- |
| Map | Result |
| Haven | Zeta Division 2:13 Rex Regum Qeon |
| Split | Zeta Division 13:8 Rex Regum Qeon |
| Ascent | Zeta Division 21:19 Rex Regum Qeon |
Here's some player stats:
| | | |
| --- | --- | --- |
| Player | ACS | K/D/A |
| RRQ xffero | 275 | 66 / 51 / 27 |
| ZETA Dep | 215 | 66 / 55 / 17 |
| ZETA TENNN | 221 | 62 / 58 / 10 |
| RRQ Lmemore | 250 | 70 / 54 / 12 |

For more VCT content: