Americas LCQ is underway, and we've just had our hype delivered in the match between Sentinels and 100 Thieves.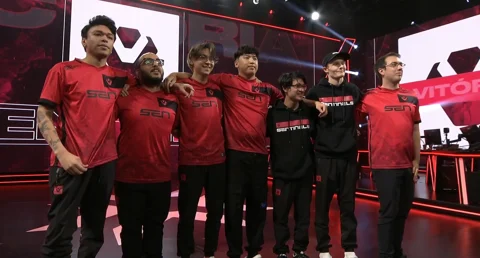 Are Sentinels Finally Back?
The question we ask ourselves every time Sentinels pull off a close victory at a major match. Whether they are or aren't, will be answered very soon as it all depends on if they will be able to qualify for Champions or not.
Map 1 - Pearl
The title isn't a clickbait, and TenZ wasn't really back until Map 3. 100T saw a hero arise when Cryo sweated his way into this map with 32 frags at the end. The starting rounds went to SEN as they managed the close the half 9-3. We all know what that means... right? The 9-3 curse has been haunting teams for a while and Sentinels weren't going to be spared.
A 3K from @Cryocells_ to get a FLAWLESS round putting @100T_Esports one round away from tying up the score! #VALORANTLCQ pic.twitter.com/nuuGtW6lQJ

— VALORANT Esports NA (@valesports_na) July 17, 2023
After a miraculous run and a solid Jett performance by Cryo, 100T managed to draw it and force it to overtime. 100T won the initial round as Attackers, and in the last one Cryo schooled SEN with his OP on B Ramp as he got 3 OP kills from the get-go to steal Map 1 for his side.
THE 9-3 CURSE IS REAL

A big round from @Cryocells_ and @100T_Esports steal away Pearl in overtime to go up 1-0 in the series! Split up next. #VALORANTLCQ pic.twitter.com/hnmDAsYDdU

— VALORANT Esports NA (@valesports_na) July 17, 2023
Map 2 - Split
Losing in Overtime can strike you mentally and Map 2 was a do-or-die for Sentinels. The first half was a bummer for both sides. 100T won pistol round, but then Sentinels forced and won the next four rounds. 100T managed to stop their momentum and grab the half 7-5.
SEN Dhelp

— Sentinels (@Sentinels) July 17, 2023
The second half was a must for Sentinels, and they delivered! After being quite poor in his performance, TenZ & Jimzo got their carry pants and made sure they weren't going to lose a single round in the second half. After missing quite a lot of his OP shots, TenZ made up all those misses while clicking heads with knives. The match ended after the dominating second half from Sentinels 13 to 7.
doing it for his son pujan pic.twitter.com/KTuGjCx9xP

— Sentinels (@Sentinels) July 17, 2023
Decider Map - Bind

Players hate them, we love them! We got ourselves a decider map on the Match Of The Century here in LCQ Americas. This Map alone is a reason to watch or rewatch the VOD of the game and feel the adrenaline while TenZ goes super saiyan and the chat is spamming that he's back.
IT'S YENZ TIME pic.twitter.com/WS5uMJ5rHJ

— Sentinels (@Sentinels) July 17, 2023
And that's not all. Bind gave us a Yoru Mirror match and honestly, everyone was just like BRING IT! Sentinels continued their form from Map 2, and made sure to give no space to 100T. The first half went 10-2 for Sentinels. All the hype was surrounding TenZ as he was bagging heads and feeling himself through the game.
The ace from @Cryocells_ to stop the bleeding! #VALORANTLCQ pic.twitter.com/b5fAthRAWh

— VALORANT Esports NA (@valesports_na) July 17, 2023
At 12-4, Cryo stole the show and Aced Sentinels for a glimmer of hope to 100T. The next two rounds were theirs and the crowd was aching for another Overtime. That wasn't going to happen as they struggled to Entry on A and lost three on their slow push.
world's best yoru and some guy named peter pic.twitter.com/b0LWQpho9V

— Sentinels (@Sentinels) July 17, 2023
100Thieves Get Eliminated From VCT Americas LCQ
Single-elimination games tend to be really stressful but are immensely fun to watch for the audience. This was one of them, and whoever was watching it felt the hype and adrenalin. 100T get eliminated and their Champions 2023 dreams have officially ended. Regardless of the outcome, this game was a "well played" for both sides, and it's nothing but sad that it was a single-elimination one.
Played our hearts out and gave it everything, thank you all for being apart of this season. pic.twitter.com/Rk3McdL1Yv

— 100 Thieves Esports (@100T_Esports) July 17, 2023
Sentinels vs 100Thieves Results By Map
These are the final results for each map for this matchup.
| | |
| --- | --- |
| Map | Result |
| Pearl | Sentinels 12-14 100Thieves |
| Split | Sentinels 13-7 100Thieves |
| Bind | Sentinels 13-7 100Thieves |

For more VCT content:
This article contains affiliate links as indicated by the shopping cart icon. Please read the article carefully before clicking any links.