The next team to join the 2024-25 Pacific League will be Bleed eSports. More content about their winning run can be found in this article.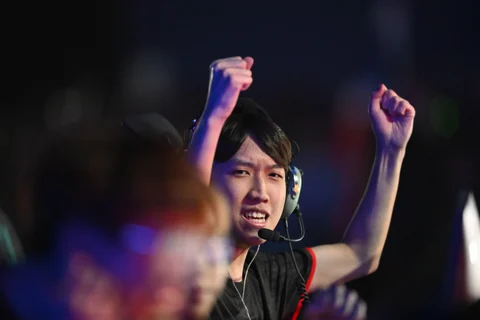 The road to the pacific league is finally over and we have our traveler wrapped up. Bleed was no match for any of these teams, and they proved that by 3-0ing SCARZ in the grand finals in a whooping fashion.
Bleed's Road To The Trophy
They looked hot even in the group stage, winning 3 series and dropping one to Dplus (they finished 4th - got eliminated). Their first-place finish meant that they will start the playoffs with an upper hand by playing directly from the semi-finals.
The first Bo3 playoff game was versus Boom and was an uptight game in which any team could've won it. After a deciding 13-10 win on Haven, the second grand finalist was here.
BLEED SG

To nobody's surprise, the Singaporean Superteam is in the Grand Final.

It's now down to one final match for them to fulfill their destiny. Will they be able to claim the lone spot to VCT Pacific?#VCTAscensionPacific #TakeYourPlace pic.twitter.com/gLmwOsVkDN

— VCT Pacific @ Ascension (@vctpacific) July 9, 2023
Sweeping through SCARZ
After somewhat struggling versus Boom, Bleed was about to face SCARZ.
The maps that were played out in this GF were:
Haven - Bleed 13:9 Scarz
Bind - Bleed 13:2 Scarz

Fracture - Bleed 13:8 Scarz

The deciding factor in this series was the former X10 and XERXIA player "sScary". He had 252 ACS and 55 frags in total in the series and secured himself the MVP spot of the Grand Finals of Ascension 2023. The Twitter video linked below is probably the most hype moment of the tournament.
.@sScaryOfficial ENDS HAVEN WITH AN ACE AND THIS INSANE 1v4 CLUTCH #VCTAscensionPacific

https://t.co/h4MPtwXkRl pic.twitter.com/kmXJpw5J9r

— VCT Pacific @ Ascension (@vctpacific) July 9, 2023
What's Next For Bleed
With this win, Bleed will be the second Singaporean team alongside Paper Rex to compete in the VCT Pacific for the next two years. This means that they've officially become part of the Valorant's franchising, and will be a partner team.
6 digit salary worth it xD

— OG LeVi (@LeVi_0999) July 9, 2023
Alongside these remarkable rewards, they've also clinched the 20,000$ prize.
.@crazyguyfps HAS DONE IT!

Welcome to VCT Pacific, @ggBleed! #VCTAscensionPacific pic.twitter.com/ZOt3TughL3

— VCT Pacific @ Ascension (@vctpacific) July 9, 2023

For more VCT content:
This article contains affiliate links as indicated by the shopping cart icon. Please read the article carefully before clicking any links.