If you asked NA Valorant fans in 2021 who their favorite teams was, chances are at least half would say Sentinels. With a revamped roster, the org will look to return to form.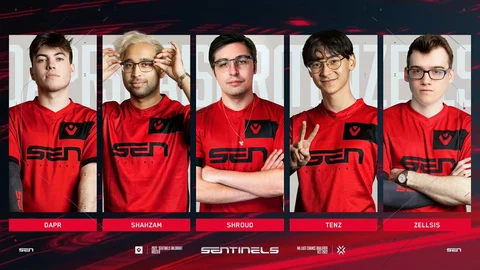 Early in Valorant's competitive scene, Sentinels was undoubtedly the strongest and most consistent team in North America, and some would argue the world. Winning the regional Masters 1 event and proceeding to sweep Masters Reykjavík, the first international LAN event, without dropping a single game vs Fnatic, NUTURN Gaming, and Team Vikings, put the organization clear of everyone else towards the tail-end of 2021.
Momentum shifted following a somewhat disappointing performance at Masters Berlin, falling to Team Envy in the quarter-finals, with Sentinels hitting rock bottom at Valorant Champions, the most prestigious event to date, failing to make it out of the group stages, with dark horse LATAM squad KRU Esports knocking them out.
2022 has been just as rocky for the once NA giants. Shaky roster decisions, failure to grasp the current meta, and more issues have let Sentinels underperform to the point of missing out on both Masters tournaments thus far.
With their last chance coming at the NA LCQ, a revamped squad will look to help the org return to its former glory.
Sentinels Valorant Roster
Being selected as one of the 30 initial Valorant franchised teams, Sentinels has rebuilt its entire roster, bringing in new faces from Brazil and North America, as well as saying goodbye to long-time players such as ShahZaM.
| | | |
| --- | --- | --- |
| Name | Agent Pool | Join Date |
| Zachary "Zekken" Patrone | Sova, Chamber, Jett | October 5, 2022 |
| Tyson "TenZ" Ngo | Chamber, Jett, Raze | March 11, 2021 |
| Gustavo "Sacy" Rossi | Fade, Sova | October 15, 2022 |
| Bryan "pANcada" Luna | Astra, Sage, Viper, Omen | October 15, 2022 |
| Jimmy "Marved" Nguyen | KAY/O, Cypher, Breach | March 13, 2023 |
| Hunter "SicK" Mims (sub) | Omen, Astra, Viper | April 28, 2020 |
Sentinels Valorant Best Results
| | | |
| --- | --- | --- |
| Event | Tier | Placing |
| VCT 2021: Stage 2 Masters - Reykjavík | S-Tier | 1st |
| VCT 2021: North America Stage 1 Masters | A-Tier | 1st |
| JBL Quantum Cup | A-Tier | 1st |
| Pop Flash | A-Tier | 1st |