Day 4 is Group A's day, and we are sure to get some exciting maps! Who will prevail? Stay tuned.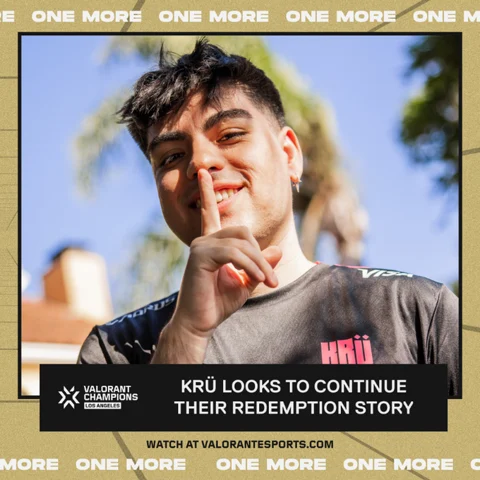 Champions 2023 is stacked up, and there are no excuses for the big teams. We've already seen a lot of upsets, and Day 4 might bring some as well.
Valorant Champions 2023 Day 3 Recap
Here's what was going on at Day 3:
| | |
| --- | --- |
| Map | Result |
| Map 1: Lotus | NRG 12:14 BiliBili Gaming |
| Map 2: Split | NRG 8:13 BiliBili Gaming |
| Decider Map: Pearl | // |
| | |
| Map 1: Fracture | Fnatic 13:5 ZETA DIVISION |
| Map 2: Haven | Fnatic 13:6 ZETA DIVISION |
| Decider Map: Lotus | // |
| | |
| Map 1: Pearl | Evil Geniuses 15:13 FUT Esports |
| Map 2: Bind | Evil Geniuses 13:9 FUT Esports |
| Decider Map: Ascent | // |
Where To Watch Day 4 Valorant Champions 2023
Champions 2023 has two types of streams in which you can follow the event. The Official ones with commentary, or the watch parties that are streamed primarily by the content creators.

These streamers and content creators are watching #VALORANTChampions Los Angeles with the rest of the Pacific!

Join in the watch parties and witness our four representatives #MakeWaves pic.twitter.com/7kOjQ179FH

— VCT Pacific @ Champions (@vctpacific) August 7, 2023
Valorant Champions 2023 Streamer Watch Parties
These are the more popular streamers' watch parties you might be interested in:

Tarik
Subroza
Kyedae
ShahZam
Kuba
Mixwell
In the tweet below you can see the other official Watch Parties that you can tune in to during Champions 2023

The official #VALORANTChampions Watch Party list is here!

Who are you watching with? pic.twitter.com/GNdUImcOQ2

— VALORANT Champions Tour (@ValorantEsports) August 5, 2023
Official Champions 2023 Streams With Commentary
English Stream (Primary):

German Stream:

French Stream:
Turkish Stream:

Latin American (ES) Stream:

Filipino Stream:

Valorant Champions Day 4 Matches & Results
Day 4 is a big test for the "BIG" Pacific Valorant teams, and they have a lot to show up for.
These are the opening games for Group A & their playing schedule:
Paper Rex vs KRU Esports - 9:10 PM CEST / 12:10 PM PT / 3:10 PM ET
EDward Gaming vs Giants - 11:30 PM CEST / 2:30 PM PT / 5:30 PM ET

And these are the results:
Paper Rex 2:0 KRU Esports
Map 1: Split 13-7 for PRX
Map 2: Pearl 13-8 for PRX
Map 1: Split TBD
Map 2: Bind TBD
Map 3: Ascent TBD
.@zmjjkk is back. pic.twitter.com/ZLxpVjlD7N

— VALORANT Champions Tour (@ValorantEsports) August 9, 2023
Valorant Champions Day 4 Head to Heads
This is both team's first match against each other, and there's nothing better than to have it at the Los Angeles main stage. PRX are one of the favorites to do BIG at Champions, and if you're wondering what the odds were before Champions started, check this article (Fnatic are on top).
Ya se viene @KRUesports , vamos chicos pic.twitter.com/jAabdacA9a

— Sergio Kun Aguero (@aguerosergiokun) August 9, 2023
What To Expect From Day 4 Of VCT Champions 2023
It's been a wild ride so far, and with the upsets that we say, we can expect anything from now on. Both PRX and KRU are even on the power scale, we should expect a close game else one of the team struggles with the mental game.
EDward Gaming vs Giants has the same case, and it can be anyone game. Regardless of the outcome of the matches, the Winners, Elimination & Decider matches will be full of back and forth like we expected from Champions.

For more Champions content:
This article contains affiliate links as indicated by the shopping cart icon. Please read the article carefully before clicking any links.