Mateo and his wingman are a vibe ever since his release. Having an explosive utility kit makes him a perfect fit to bombard entry sites and help his team take over sites with ease. If you're into this, Gekko is the agent for you, and this guide will get you going.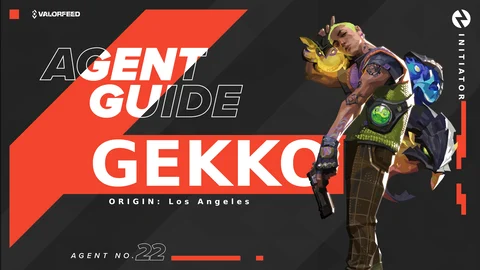 A couple of months have passed, and the epitome of the best Gekko Main has not yet emerged. With the company of his buddies, Gekko is a notorious pusher and the trickiest Agent around the Spike.
Gekko Abilities Explained
Globules
Gekko never leaves his friends behind; therefore, whenever he uses Wingman, Dizzy, or Thrash, he can reclaim them by interacting with them at the collision point. If the area is clear, you can retrieve your buddies and have them back with you. However, there is a 10-second cooldown for their reuse once reclaimed. The Globules remain on the ground for 20 seconds after being deployed (only once).
C Ability - Mosh Pit (Cost - 250 Credits)
The Mosh Pit is an ability similar to an incendiary grenade that spreads and deals damage 3 seconds after colliding with the ground. By using the Fire key, you can throw it like a regular grenade, while the Alt-Fire key allows for an underhand throw.
The amount of damage inflicted depends on the radius. If an Agent is within the Outer radius, they will receive 25 tick damage, whereas being within the Inner radius results in 50 damage. After the initial 3 seconds, if an Agent remains within the Outer circle, they will get 3 ticks of 25 damage, totaling 75 damage. If they are within the Inner circle, the damage will amount to 150.
After testing #Gekko here is some info about abilities:

Mosh pit:

- Kills KJ ultimate, even through thick walls;
- Kills full hp/armour opponents;
- Less damage if you are farther from its centre.
- Damages around 80% to doors on Ascent and a Flower door on Lotus.

#VALORANT pic.twitter.com/TwHUd3VMlG

— Ivan Shevtsov (@JohntaOfficial) March 6, 2023
The ticks of damage do not occur instantly, and if an Agent is within the Outer circle, they may be affected by 1 or 2 ticks depending on how quickly they escape the Mosh Pit. It's important to note that Mosh Pit damages everyone, including Enemy Agents, Friendly Agents, and even Gekko himself. Therefore, make sure not to harm your teammates as we all know how toxic things can become in situations like these.
Q Ability - Wingman (Cost - 300 Credits)
Gekko's BFF, his wingman. This Ability is the ground maker for tricky plays and mindblowing spike defuses or plants. It has three uses:
Concuss - once thrown with Fire button, walks a straight line forward seeking enemies. Once it finds an enemy, blasts towards it and applies 2.5 seconds Concuss.

Planting Spike - For this you need to make sure the spike is in your inventory. With Alt-Fire you can send the wingman to plan the spike for you. You need to have clear vision of the plant area ahead of you and enough range for the wingman to be sent on a mission! If he successfully plants it, awesome, if he get's killed in the process the spike drops on the place where the wingman was downed.
Defusing Spike - Once again, you need clear vision of the spike, you equip the Wingman and send him forward to the spike using Alt-Fire button. He will run towards the spike, and try to defuse it.
wtf gekko wingman pic.twitter.com/ZpLopaQXit

— Xzi (@xzi_ow) May 30, 2023
After being thrown, Wingman will search for enemies for a duration of 5 seconds before disintegrating and becoming available for pickup. However, that time limit doesn't occur to commands given to Defuse or Plant. As mentioned previously, enemy agents have the ability to shoot and kill Wingman in any of the scenarios above. To down Wingman, they must deal 100 damage.
Signature Ability - Dizzy
Dizzy is another valuable companion in Gekko's arsenal. It serves as a powerful tool for engaging sites. When thrown into the air, Dizzy has a windup time of 0.5 seconds before hovering for an additional 2.5 seconds.
During this hovering period, Dizzy emits blasts toward enemies in its line of sight. These blasts have the ability to blind enemies for 1 second. However, enemies can easily shoot and eliminate Dizzy, as he only has 20 HP to work with.
Ultimate Ability - Thrash (7 Ult Points)
This is one of the most unfair Ultimates in Valorant, as seen on multiple occasions on streams. Once you Fire Thrash you take control of him, and your Agent will sit AFK until you finish your job with Thrashy. You can steer him through enemy territory and let him do the dirty work for you.
Once you find an enemy you can click on Activate hotkey which will make Thrash lunge forward and explode in a small radius. Anyone caught in the radius will be DETAINED for 6 seconds, which is the main reason why people get extremely tilted at this ability. Windup of Thrash is 0.6 seconds, lasts for 6 seconds, and has 200 HP, which means enemies can shoot at it.
Fun Fact: Gekko's own Thrash can detain him pic.twitter.com/eOX3uA3KMC

— Andrew (@DarthTVs) March 7, 2023
How To Play Gekko?

Knowing how his abilities work is crucial before going on to the next stage of this guide. Playing Gekko requires a little bit of creativity to make full use of his util kit. His most important job on the Attacker side is to make initial entries fast and smoothly for his team. This means that you shouldn't be saving on your resources but rather using them from the get-go.
Defending with Mateo can also be a challenge as you will usually be confused as to whether you should save your Wingman, or use it and spare your abilities, and so on. We know that watching a video about how Wingman works will hype you up to pick Gekko, but make sure you focus on his full kit, rather than just wingy.
NO. ONE. TOUCHES. MY. WINGMANNNN #gekko #RiotCONquest #SeeYouInTheSkies pic.twitter.com/1WCXiTSkfH

— spotify: maloemalhen (@maloemalhen) June 3, 2023
Using Wingman as a tool to distract and make your enemies show is the correct approach to both defuse and plant. Enemies will rarely let Wingman play with the spike, but they will show their position which will give you a huge advantage.
Gekko excels on 1 on 1 engagement as all of his abilities except for Mosh Pit can make the duel an uneven match-up for you. One concuss, a short blind and an OP 6 seconds DETAINED can help you win those clutch situations.
The Best Maps For Gekko
The Angeleno is currently sitting at a 49.5% win rate in competitive mode with a 3.9% win rate. These stats are low, but considering he got released just a couple of months prior, the stats are okay-ish.
His best-performing maps stats-wise are Fracture, Pearl, and Heaven. This doesn't mean that he is not playable in the other maps, so we will dish out a short guide on how to play Gekko on a couple of maps.
How To Play Gekko On Ascent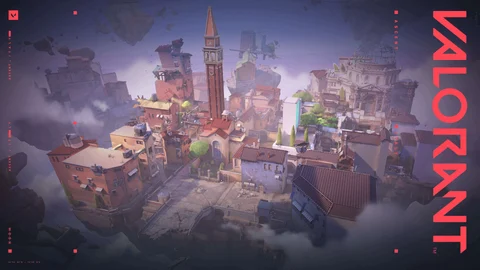 Ascent is an open map, which means Gekko isn't the ideal agent for the job here. Tight corners and narrow corridors mean that you can't retrieve your buddies safely, which is a big handicap for an agent like him. On Ascent, Gekko can take advantage of his Mosh Pit in Post-Plant scenarios and throw buddies at the enemies in retaking sites.
The other use of Mosh Pit here can be to clear corners on attacking rounds. A wine, Heaven, and under-Heaven, B logs are places you can clear for your team when approaching sites. Mosh Pit can't be retrieved like your other abilities, so make sure to use it wisely.
How To Play Gekko On Fracture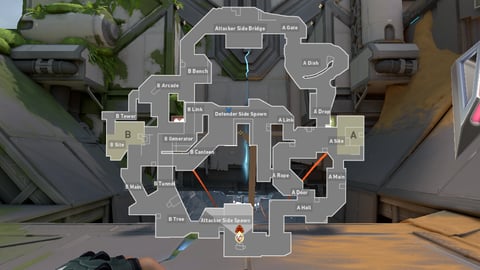 As stated before, Fracture is THE MAP for Gekko. What Ascent lacked, Fracture has in abundance. Gekko excels on defender-favored maps, and Fracture having this, you can make it your playground.
While defending there are several spots you can hold for your team and they are:
On B site: Arcade, Canteen, and Generator
On A site: Drop, On-Site, and Main.
Textbook defending is all you need to do here. Hold your position and pressure the enemies with Dizzy or Wingman. Fast pushes can be stopped with Mosh Pit and all you need to do is induce enough damage to them while your team is rotating.
While attacking, try to prioritize A, as you can easily clear paths with your utility and later pick them up. If you know the lineups, save your Mosh Pit for the post plant.
How To Play Gekko On Pearl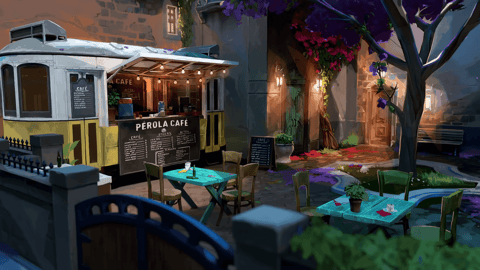 Another home-court map for Mateo. Long areas, tight corners, and hallways, that's all Gekko needs to get his game running. His glow-up in this map is that Dizzy and Mosh Pit can be thrown through obstacles where people usually want to hide in Pearl. This makes Gekko a precious attacking option on the Offense.
When considering which part to isolate with your mosh pit consider these spots:
B Tower - if safe
B Hall
Mid Doors
Entrance on A Link
Dugout
Flowers
These are the spots people usually want to sit and engage from. While on the Defence, you should make full use of the tight corners and abuse them. On B you can easily hold Link and Mid Doors, and on A you can play around Link and Site.

That would be all for this article, and we hope it will help you on your journey of mastering Gekko and crushing your enemies into ... tiltness? For more content like this, or similar, make sure to visit our Valorfeed Guides Section, where there's tons more waiting for you.

Trending Content: