Want a quick yet classic Valorant experience? Swiftplay is your best bet!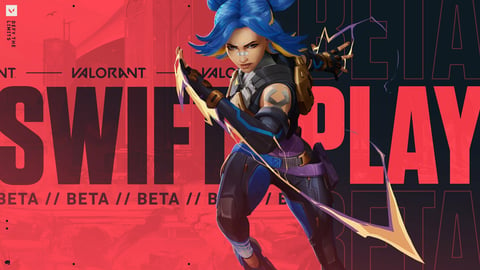 The Valorant grind can be insanely time-consuming, especially if you're playing ranked. Sure, you can stomp (or be stomped) for a quick match, but ideally, a competitive affair will take you from 40 minutes to well over an hour.
Unrated is essentially the same, barring your RP being on the line. Even if you want a faster experience such as Spike Rush, that isn't quite the same as the thrills of classic Valorant.
With the aforementioned in mind, Riot Games revealed with patch 5.12 the release of a brand-new game mode - Swiftplay!
Valorant Swiftplay - Release Date
Swiftplay entered beta testing on December 6 and can still be played after the released of Episode 6 Act 1. You'll be able to access it like any other game mode in the game, that is, from the main menus.
Valorant Swiftplay - How To Play
As we've mentioned, Swiftplay is tailormade for those that want the classic Valorant experience, but in a bite-sized fashion. Unlike Spike Rush or other modes, there's no unique gimmick attached to it, but there are exclusive rules to make the mode fair and engaging.
Similar to the standard 5v5 Unrated mode, but condensed:

First to 5 rounds, 4-round half
Spike mode victory conditions: Single Spike carrier
Set Credit amounts granted at the start of the round:

800
2400: Not including 600c bonus for winning pistol
4250
4250
Weapon and Credit carryover supported
+600 credit bonus for winning pistol round
Standard Kill bonuses (+200c) and Spike Plant bonuses (+300c)
2 Ult points granted at the start of each half

Sudden death overtime
Match time is approx. 15 minutes

So there you have it! Now go on and enjoy this new frenetic gamemode.
For more content: