Rumors of an arcade-themed skin collection turned out to be true, so here's everything we know for Valorant fans craving more bundles.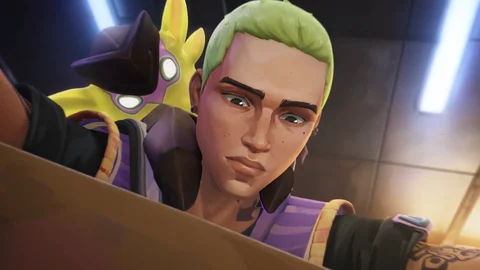 We all love skins in Valorant? Sure, they might seem overpriced at first, but eventually, you fall in love with their cool aesthetics and unique VFX.
This time around, as Valorant Episode 6 Act 3 inches closer, rumors of an upcoming bundle are not too surprising, but we might have a lot of information already in our hands to assume it'll be an arcade-themed skin collection.
Valorant Radiant Entertainment System Bundle - Leaks
First off, let's recap the official teasers we've gotten. Riot Games posted a small teaser of Gekko looking excited at a box. You can check it out here.
Later, ValorLeaks confirmed that the teaser was indeed pointing at a new arcade-like skin collection. The rumors became even more credible when a new video surfaced, with the dataminer stating that's a new upcoming home screen that'll become available with patch 6.08.
Arcade Home Screen (Patch 6.08) | #VALORANT pic.twitter.com/weNdM5ANp3

— Mike | Valorant Leaks & News (@ValorLeaks) April 21, 2023
Valorant Radiant Entertainment System Bundle - Skins & Price
Once the leaks spoiled the surprise, Riot Games shared an official trailer for the collection, take a look here:
With the Radiant Entertainment System, every game's an opportunity for a new high score- press play on April 25. pic.twitter.com/EWeCN0GGaF

— VALORANT (@PlayVALORANT) April 22, 2023
The trailer showcases an incredible amount of detail, with weapon VFX (one looking like a DDR dance pad) and kill effects that see the opposing player actually playing Dance Dance Revolution, another one is a shooter-style kill effect, they look slick!
What's even cooler, the magazines are actually game cartridges!
While we don't have a proper look at the skins in images, ValorLeaks once again shared a leak of the skins, confirming the following weapons will be a part of the Radiant Entertainment System bundle: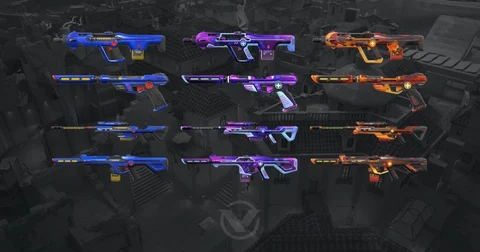 Bulldog
Ghost
Operator
Phantom
Naturally, the skin collection also comes with unique melee, this time with different styles: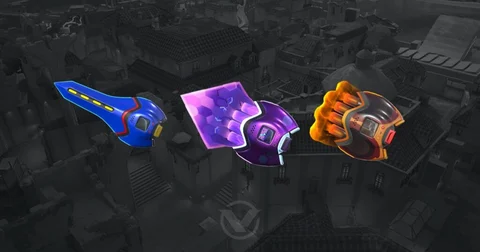 The prices for these skins might be some of the most ridiculous we've seen in Valorant, but if you have the cash to spend, they'll definitely be worth it. These are according to ValorantUpdated until official confirmation so they might not be final:
Price Per Weapon: 2975VP
Melee: 5950VP
Price Per Spray: 375VP
Price Per Playercard: 375VP
Price Per Gunbuddy: 475VP
Bundle Price: 11900VP
Valorant Radiant Entertainment System Bundle - Release Date
It's expected the bundle comes alongside Valorant Episode 6 Act 3, once again, when we have confirmation this is the case, we'll be updating this article.

For more content: