The extroverted and often loud Zellsis didn't think the cameras would be focusing on him when he made a rather, err, sexual gesticulation live during the Cloud9 vs NRG match.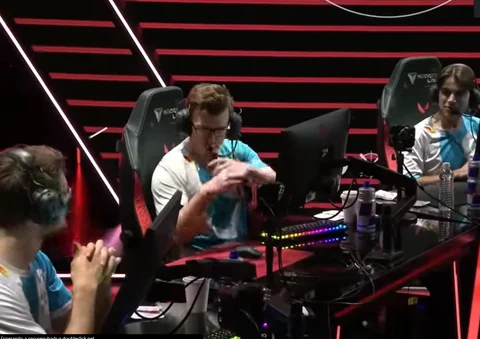 Valorant pro players are not the most serious people when they're on stage. Banter and playing to the crowd are part of the game and get fans excited sometimes, however, Cloud9's Jordan "Zellsis" Montemurro had a particularly unfortunate moment just as the VCT Americas production crew decided to showcase him and the rest of his teammates during a live broadcast.
As it turns out, Riot Games doesn't like profanity of any kind, issuing a fine to the player according to Zellsis himself.
Zellsis Fined For Sexual Gesture Live On VCT Americas Stream
The former Version1 and Sentinels player is no stranger to controversies, having previously been fined in 2021 for inappropriate comments against a Riot Games employee during Masters Iceland.
Admittedly, his mistake this time is undoubtedly less egregious, falling almost into the hilarious category. In short, Zellsis was doing a gesticulation with his hand and mouth that simulated, well, the act of performing oral intercourse to put it professionally.
Of course, he wasn't aware the stream was showing he and his teammates while they were playing against NRG during the VCT Americas super week., how could he? He was completely dialed in, helping his team achieve victory 2-1.
In a livestream, Zellsis confirmed Riot had essentially fined him for "air sucking d*ck," and while he couldn't reveal how much was the fine for, he did set a $10k stream donation goal. Probably unrelated, as we heavily doubt Riot's punishment reached those heights, though.
So there you have it! Did that warrant a fine or is Riot in the right this time?

For more content: