The Streamer Awards is a community-driven annual awards show run by QTCinderella, that awards streamers where they are due. There were multiple nominations from Valorant personalities, and the most notable one was this power couple.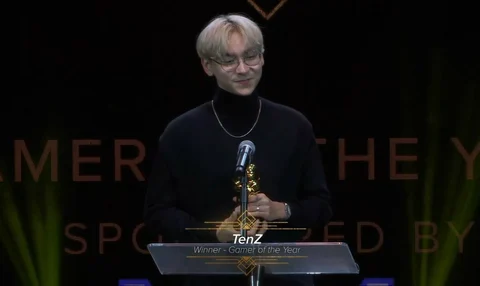 The Streamer Awards
Hosted by "QTCinderella", this awards show has been the topic of conversation among streamers these days. The awards are split into categories, and each has 5 nominee's of which one will be the winner of the given award.
The Streamer Awards are back!

We've teamed up with @qtcinderella to bring you every moment from the Red Carpet to epic acceptance speeches, presented by & streaming exclusively on Twitch.

Saturday, 3/11 at 3pm PT at /qtcinderella

More: https://t.co/gnR01nmX5d pic.twitter.com/3YCU7lopme

— Twitch (@Twitch) March 10, 2023
The winners are chosen through a voting process done on their official website. TenZ and Kyedae weren't the only Valorant personas nominated, but them bagging the gold sure hit the spotlight.
TenZ Wins The Gamer of The Year Award
A MASSIVE CONGRATS TO OUR GOAT @TenZOfficial FOR WINNING THE GAMER OF THE YEAR AWARD!! THE PURE TALENT AND SKILL IS INSANELY IMPRESSIVE

NEXT UP IS STREAMER OF THE YEAR https://t.co/1fSfbZeqeG pic.twitter.com/BXIPDKJKko

— The Streamer Awards (@StreamerAwards) March 12, 2023
Gamer of the Year was a much-contested award, having multiple powerhouse nominees next to TenZ.
Nominees for this award were:
Tarik
Aceu
iiTzTimmy
TenZ (W)
Apart from Aceu, the other 3 nominees are actively playing and streaming Valorant, so this can be counted as W for the Valorant Community.
OMG IS THAT MY KING TENZ?

— kyedae (@kyedae) March 8, 2023
This award was to be given to the best-performing streamer with extraordinary gaming abilities that has shown immense skill over the last year. TenZ has shown all of these both on and off-stream while we were watching his stream and also competitively play his heart out on Valorant.
Kyedae Is The Best Valorant Streamer
SHES SO CRACKED! WERE SO EXCITED TO ANNOUNCE @kyedae HAS WON BEST VALORANT STREAMER!!!

HEARTS IN CHAT https://t.co/1fSfbZeqeG pic.twitter.com/Ieyyua9tPc

— The Streamer Awards (@StreamerAwards) March 12, 2023
This award goes to the most influential but also loving streamer of our favorite game.
Nominees for this award were:
Tarik
ShahZam
QuarterJade
Kyedae (W)
Having been Diagnosed With Leukemia, spirits probably weren't so high for Kaede, and this award is a much-deserved one. But that's not what she thought, and she dreaded receiving the award.
The moment I won I felt more dread than anything because I knew the hate I'd get. Woohoo. Tarik is much deserving of this award than anyone but it was fan voted. Not my fault. And I'm so sorry for whoever this upset

— kyedae (@kyedae) March 12, 2023
Kyedae is known for her honesty and being humble, and that personality was shown on this award show. In the tweet below she honestly said that she doesn't feel like she deserved this fan-voted award and that Tarik is the one that deserved it more than anyone else.
embed id=299928 darkmode=1]
The community loves her, and that's a fact. After the award was announced most social media's stormed that Tarik is by far the most-watched streamer on Valorant and that this award was biased. Those are just opinions, and the bigger part of the community will agree with the tweet from Tarik below.
Kyedae I'm seriously sorry that you gotta even deal with that bs. You actually grind hard af and 100% deserve the recognition. Y'all need to chill out fr

— tarik (@tarik) March 12, 2023
The Stream Awards are over, and so is this article. For similar content like this one, make sure to check out our Valorfeed News Section where we have tons more waiting on you!