Similar to what happened with content creator Prod, it seems Twitch confused a simple insult with a homophobic slur, unjustly banning Zellsis in the process.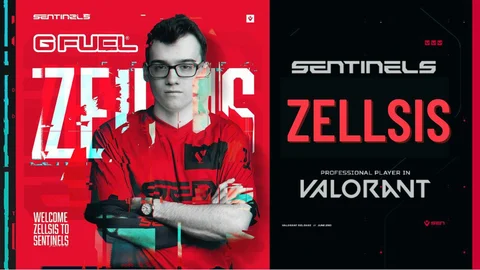 The mishap occurred on August 17, when the StreamerBans Twitter account shared that Zellsis' Twitch channel, much to his surprise, had been suspended.
The Sentinels Valorant pro player tweeted out the #FreeZellsis hashtag as means to make Twitch re-evaluate his case. According to him, the platform misheard what he had said during a recent stream, implying that the word "f*ck" was mistaken for a homophobic slur:
I got banned for 'hateful slurs or symbol' so I assume it was for saying f*ck it and twitch took it as me saying the other F word, just like shanks/prod. It wasn't cause I was shirtless or streaming anime.

#FreeZellsis
The hashtag became a trending topic on social media, with fans and the entire Valorant community showing support for a player that's rarely involved in controversy of any kind. As it turns out, Zellsis was right to publicly dispute his ban, as he was quickly unbanned less than 24 hours later, on August 18.
NEGATIVE COVID, UNBANNED, CAN'T HOLD ME DOWN WORLD https://t.co/HPojRxf9XQ

— Jordan Montemurro (@Zellsis) August 18, 2022
As the former Version1 player mentioned, this isn't the first time a Valorant player has been unjustly banned from Twitch after being misheard. Former The Guard content creator Prod went through the exact ordeal, with Twitch confusing the word "f*ck" with the other homophobic f-word.
Sadly if you're a Sentinels fan, Zellsis will have plenty of time to stream in the coming months, as his squad was eliminated from the Valorant NA Last Chance Qualifier, with 100 Thieves ending their run.
For more content: