OpTic Gaming will face LOUD once more to send off Valorant Champions after fending off a reverse sweep attempt in a heart-stopping five-map series against DRX.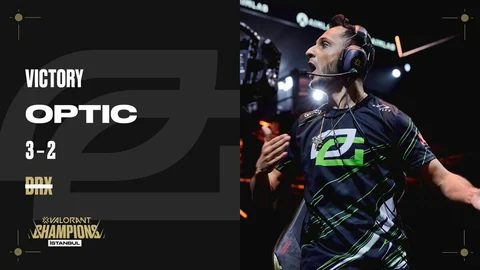 OpTic Gaming will have the chance to reaffirm they've been the most consistent and strongest team in Valorant esports in 2022 after reaching their second international event grand final (third if we count their previous successes as Team Envy) following an intense match against DRX that ended with the North American squad denying a reverse sweep in a five-map all-timer.
OpTic, who've developed a fierce but healthy rivalry with LOUD, were sent to the lower bracket by the Brazilian team in a convincing fashion, as they were trashed 13-3 in Ascent. A match in which the likes of veteran IGL Pujan "FNS" Mehta finished with only 11 frags over the course of both maps.

Instead of letting that appalling performance break their spirit, OpTic rallied and showed off what they're truly capable of against DRX, the Korean squad that had taken down FunPlus Phoenix (twice) and Fnatic to make it to the lower bracket final. FNS, in particular, bounced back better than anyone else, getting himself 64 frags and 39 assists in the match.
If we're talking high-octane gameplay worthy of being used in highlight reels, though, then we have to mention El Diablo himself - Jaccob "Yay" Whiteaker, who ended the five-map series with 91 frags and 21 First Kills. A performance so above and beyond everyone else that the second-best performer in the entire server, DRX's Yu "BuZz" Byung-chul, had 13 fewer kills while dying 17 times more than OpTic's top fragger.
.@yayFPS got him THROUGH THE WALL #VALORANTChampions pic.twitter.com/4y77JhYTOO

— VALORANT Champions Tour TR (@ValorantEsports) September 17, 2022
Despite OpTic's initial dominance on Bind and Breeze, DRX's Fracture and Ascent comps gave them a significant edge. On Ascent, the team's become famous for running a rather bizarre triple Initiator comp featuring KAY/O, Sova, and Fade - while OpTic tried to play a similar utility-heavy style, their decision to run FNS on Killjoy rather than committing to the triple Initiator comp (they already had both Sova and KAY/O) made their tempo just naturally slower on attack.
All roads led to Haven as the fifth and decisive map of the series, one that, despite some miraculous clutches from the side of DRX, ended up going the way of OpTic thanks to several Thrifty rounds that shook the Korean team's economy and prevented them from building a solid advantage.
WAIT, WHAT?! WHAT WAS THAT @Rbvlrt?! #VALORANTChampions pic.twitter.com/JG2qePdGE3

— VALORANT Champions Tour TR (@ValorantEsports) September 17, 2022
With this result, OpTic is set to play LOUD for the sixth time in 2022 - the first two during Masters Reykjavík, while the rest have all come during Valorant Champions.
The record so far favors the NA representatives, who have beaten the Brazilians in the grand finals of Masters 1, and both the group stages of Masters 2 and Champions - meanwhile, LOUD has wins over OpTic on the Upper Bracket Finals of both Masters 1 and Champions.

For more content: