A big technical pause halted the match between both NA teams at Champions, with OpTic players taking issue with being accused of abusing the pause system.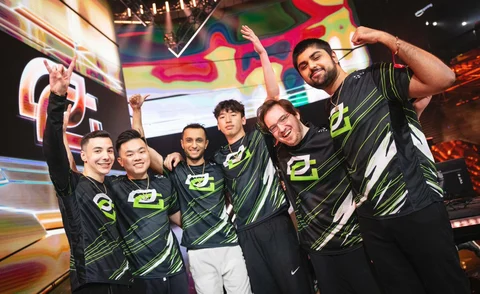 The match between two of North America's best Valorant teams gave us stellar moments, sadly, it was one that was barred by technical issues during map 3 as OpTic Gaming once again trumped XSET in the upper semifinals of Valorant Champions.
While everything ran smoothly in the first two maps, two technical pauses during map 3 consistently halted. The first one came when OpTic was up 5-4, with the tech pause to solve gear issues taking around five minutes.
The second and lengthiest one occurred right after OpTic won the previous round. This tech paused ended up with the match on hold for over 15 minutes.
After the second pause, it seemed all momentum XSET had was completely gone, as they only won four extra rounds compared to OpTic's seven, securing them the win 13-8. The team that made it to the Upper Finals of all international events in 2022 turned up the pace, with XSET simply unable to catch up to OpTic's fast engages.
XSET coach Don "SyykoNT" Muir accused OpTic of cooling his team down with constant take pauses during the post-match conference - as a result, the accused players responded via social media that they felt disrespected by the insinuation of them trying to somehow abuse the tech pause system to shut down their opponents.
OpTic's Yay tweeted out the following:
I'm a little sad we're being accused of using technical pauses for advantage. had an admin confirming the issue and witnessing it first hand.
OpTic's coach, Chet, pulled out the receipts and called XSET out on "poor sportmanship" uploading an image of his team's record vs XSET, which has OpTic at a clear advantage with four wins to only a single loss.
What poor sportsman ship by XSET, we don't need to cheat to beat you guys sorry. If our PC doesn't work we will pause and riot wouldn't allow us to abuse it without seeing it themselves pic.twitter.com/5k7jnLZgxj

— OpTic Chet (@chetsingh) September 12, 2022
Eventually, Syyko apologized for his comments in a series of tweets. Explaining that it was all simply due to the heat of the moment and coming to accept Riot's call after having a conversation with the tournament organizers.

us a tough loss.

I had a great conversation with Riot and am happy with the result of the call. I commend their great communication and their ability to take feedback and implement rule/procedure changes to improve the competitive experience. (2/3)

— XSET SyykoNT @ TR (@SyykoNT) September 13, 2022
Now, with this drama over, OpTic is gearing for yet another face-off with LOUD on September 16 - meanwhile, XSET will have a tough opponent in the form of FunPlus Phoenix on September 13 as they try to battle their way to grand finals via the lower bracket.
For more content: