Besides the Riot Gun Buddy, it seems the Luna will be the most sought-after one in Valorant. Here's how to get it and why you should.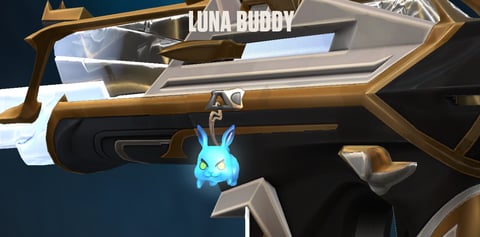 When Valorant fans talk about cosmetics, they usually refer to the amazing library of skins at their disposal, but sometimes, a few other trinkets catch the attention of the community.
Listen, we're all obsessed with trying to get a Riot Gun Buddy, it's natural, that thing has got an extreme sense of exclusivity, and showing it off to friends and strangers will make them forget about our 0-10 performance! But, there's actually another Gun Buddy that's garnering that much attention.
That would be the Luna Gun Buddy, which is part of the Luna Bundle which just released a few days ago and is featured in the Valorant in-game store.
Can You Buy The Luna Gun Buddy Without The Bundle?
Maybe you're not interested in the entire bundle, which costs a whooping 5,100VP, we're happy to report that yes, the Gun Buddy can be bought separately. It only costs 475VP which is only a fraction of the entire bundle!
So what makes the Gun Buddy special?
Why Should You Get The Luna Gun Buddy

The big thing with this Gun Buddy, on top of being a cute-looking cat, is the fact that it has a reactionary effect. Every time you shoot your gun, it'll start glowing blue, and quite frankly, it looks spectacular. Take a look at the clip down below.
The Luna Bundle is Now Available. | #VALORANT

Spray Price: 325VP
Playercard Price: 375VP
Gunbuddy Price: 475VP
Skin Price: 1275VP
Melee Price: 3550VP
Bundle Price: 5100VP pic.twitter.com/QCwC9o8NRP

— Mike | Valorant Leaks & News (@ValorLeaks) January 25, 2023
If you don't get your hands on it when it goes out of the store it'll be near impossible to get otherwise so be warned! The only things that show up on the daily rotator and Night Market are weapon skins!
For more content: