Valorant has been out for some time now, and the competitive scene has risen a lot. Some players would want to see their skills in numbers, so let's check out how you can see your Valorant stats!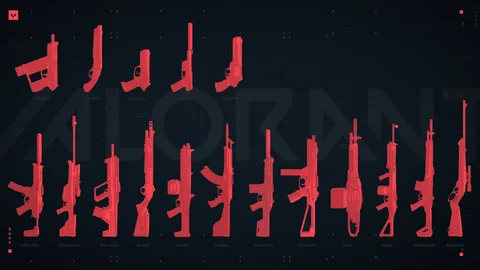 Whenever you play any competitive game, you'd want to check out how you perform with stats. These stats will determine what aspects of your gameplay you should improve to become better. The same rule applies to Valorant if you ever wanted to climb to Radiant! So let's go ahead and see how to view your stats in Valorant!

How to View Stats and Match History in Valorant
You can view and check out the most essential stats right through the Valorant game. The match history shows your 10 latest games played, and here you'll be able to see some of the most essential stats such as combat score, KDA, and more. Here's how to view your stats and match history in Valorant:
Fire up the Valorant game
On the top select Career
Make sure the Match History option is selected
The 10 most recent games will show up here. Click on any game to see the more in-depth stats such as first blood and KDA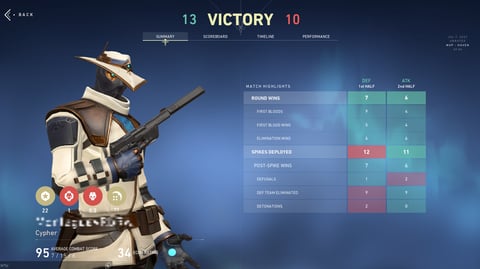 There are a lot of excellent Valorant stats you can view here. Take ECON rating for example, which means how much damage you've dealt for every 1000 credits spent. It shows how resourceful you are with the kills and the money you spend: the higher the ECON rating, the better you are with the best Vandal skins! The main issue with Riot Games' match history implementation is you can only view the 10 most recent matches, and some players want to track their stats over a longer period of time…
How to View Stats in Valorant with Trackers
Another way you can see your stats in Valorant is through an online stat tracker. There are a lot of Valorant online stat trackers, but we'll check out the 2 most popular trackers: Blitz.gg and Tracker.gg
How to View Valorant Stats with Blitz.gg
Blitz.gg is an excellent go-to when it comes to Valorant stats. Not only are you getting the basic KDA stats, but Blitz also shows how often you hit headshots and body shots with the best Phantom skins. Blitz also allows you to see stats from previous episodes and acts, so here's how you can view your Valorant stats with Blitz.gg:
Visit the official Riot Games Valorant site, click on Play Now and log in with your Valorant account
Head to the Blitz.gg site, type in your Riot ID, and click on your account
Click on Authorise with Riot ID, go through all steps, and wait 30 seconds
Once Blitz loads your stats and account, you'll be able to check out your Valorant stats here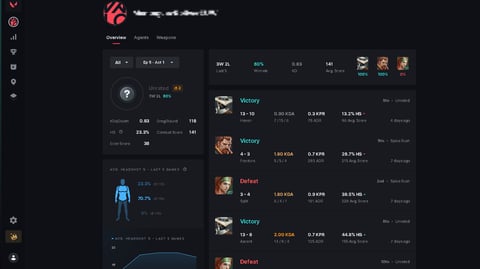 Click on any match to view the specific KDA, hit rate, etc. stats for that match. On the left, you can even select an Episode and Act to view your Valorant stats from far in the past to see how you've improved from Silver!
How to View Valorant Stats with Tracker.gg
Another popular site the player base often refers to for Valorant stats is Tracker.gg! It shows your accuracy for head and body shots, but what's even better it tells your accuracy for all of your weapons individually, be it the Vandal or Phantom. So here's how you can view your Valorant stats with Tracker.gg:
Log into the official Riot Games Valorant site by clicking on Play Now
Visit the Tracker.gg site and click on Sign In on the top right
Click on Register and go ahead to make an account
On the linking stage, make sure you select the Riot Games option, then go through all steps to create an account
When you create your Tracker.gg account, head to the Valorant section of the tracker on the top
Search for your account name and region such as Name#Region
Click on your account
If you're met with a message saying it's a private account, check the Approve checkbox and click on the Riot ID login option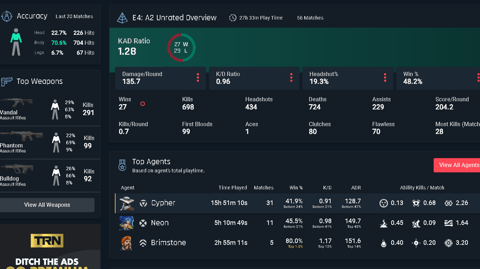 From accuracy, total kills, and headshots to the hours played Valorant down to how much time you've spent on agents: that's what Tracker.gg promises. The time may not always be right, but it's pretty accurate. Now you can even see how many hours you've wasted playing Chamber!
These are the best ways you can view your stats in Valorant. There are many more trackers online, but these ones alongside the essential match history should help you out just fine. Don't forget to visit our Instagram to share your Valorant stats!