It's not uncommon for shooter games to have disturbing scenes including corpses and blood, but no worries because in Valorant you can turn them off and loosen up on that unpleasant scene.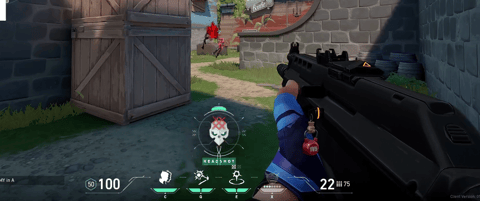 The goal in FPS games is to kill your enemy and that might present some disturbing scenes to the audience. Not everyone playing Valorant or any game of this kind is mature enough to witness those gaming elements like blood and corpses once a person is killed or wounded.
The Good & Bad Stuff About Blood In Valorant

If you are actively watching the Valorant Champions 2022 in Istanbul, check out our gallery to look out for these top teams!
Watch Out For These Teams During Valorant Champions!

View gallery
There are several perks that you will get with disabling these options:
Slight increase in FPS in tense situations where shooting is rampant
Minors won't witness disturbing images and visuals
Corpses not showing will also improve your FPS as it's a visual element
But there are also things that you will miss such as:
Blood indicates that you did indeed hit the target, by disabling you cannot be so sure you've hit your bullets
If you're playing Sage and you've disabled Corpses it will be slightly harder to revive your Allies
The increase in FPS is very small compared to what these visual elements bring to the table
How To Turn Off Blood In Valorant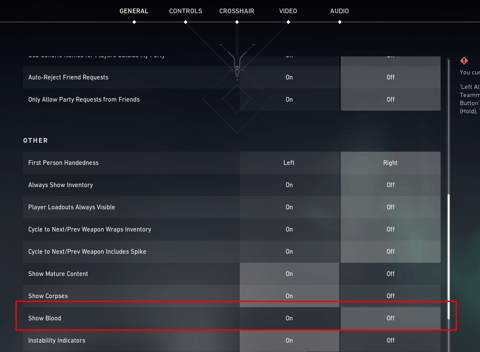 This can be done in the settings by:
Opening Valorant, and going over to the Settings ingame (Top-Right settings logo)
From there we stick to General Tab
We Scroll down until we find the "Other" tab
As shown in the picture above, you will see an option called "Show Blood"
Click on Off
Optionally while you are here you can also disable "Show Corpses" and "Show Mature Content"
After successfully disabling these options they will have an immediate effect and you won't need to restart the game. We hope this article found you well and it was helpful in your Valorant Journey, for more guides like these make sure to check our Valorfeed Guides Section where we regularly post Guides about anything Valorant!