Valorant on a Mac? Let's find out how you can run Riot Games' tactical shooter on the Apple Mac.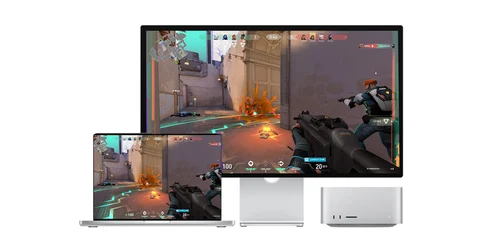 Valorant On Mac
Valorant has established itself as one of the most popular tactical shooters on the PC market. And with confirmed plans for a mobile version and strong hints of a console version, there is seemingly no platform that is safe from this CS:GO meets Overwatch FPS. And while the PC version runs on machines of differing performance levels, what is less clear is its potential to run on Apple Macs.
Apple's computer has had a bumpy history with video games but a change in architecture and a more malleable operating system have improved things in recent years. This begs the question, can Valorant run on Macs? And what steps do you need to take to do so? This guide explains it all.
Can I Play Valorant On Mac
The simple answer is: yes, you probably can play Valorant on your Mac but there is no macOS-native version of the Valorant client and it will take a bit of work on your part. It may also be the case that you have a chipset that makes it impossible, as you will need to install Windows 10/11 to your Mac using Boot Camp. However, Boot Camp is not available for all devices.
How To Play Valorant On Mac

So, since we know that Valorant is playable on a Mac, let's jump straight into what you can do to get there. Macs have two types of processors: Intel and M1. If you have an Intel-based Mac, follow this guide to learn how to play Valorant on it. If you have an M1 or M2 processor, we have bad news as you will not be able to run Valorant on it due to Valorant's anti-cheat system - Vanguard.
Is Valorant Available on Geforce Now
While Riot Vanguard does keep the game away from the cheaters, it's also a pain when trying to play Valorant on a company PC or throught third-party software. Long story short, Vanguard flags all of the third-party apps as threats and therefore won't run with them on. This is one of the reasons why you can't play Valorant on the M1/2 chips but the now popular Geforce Now streaming software that's booming on the market.
How To Play Valorant Via Bootamp

As mentioned before, the only way to play Valorant on a Mac is by running the game using a Windows 10/11 install via Boot Camp. That means you can not use a virtual machine. This is yet again due to Valorant's Vanguard anti-cheat system which needs boot kernel access, which is unavailable on a virtual machine. Boot Camp is Apple software and perfectly safe to run on your machine, and you won't even have to spend a penny as you won't need to activate your copy of Windows 10 or 11.
The following Apple Macs have been confirmed to run Valorant:
MacBook 2015 or later
MacBook Air/Pro 2012 or later (ex. M1 model)
Mac mini 2012 or later (ex. M1 model)
iMac 2012 or later
iMac Pro (all models)
Mac Pro 2013 or later (ex. M1 model)
However, as mentioned before, this is only via a Boot Camp launched version of Windows 10/11. Once you have installed Windows, boot it up, navigate to the official Valorant website, and download the installer. Once installed, fire it up, tweak your video settings for the best performance, and away you go!
Is There Any Other Way To Play Valorant On Mac?
Sadly, no. As mentioned before, game Geforce Now or the other game streaming services can't have Valorant on their services due to Vanguard and it's unlikely they will fix that soon. On the other hand, the chances of a macOS native version of the game are also slim as the gaming audience on the Apple Mac is far smaller than the PC, and with that mobile and possible console version on the way, there is probably not the development time to focus on a macOS version.

For more Valorant, check out: