SEA vs NA teams often brings us exciting competitive matches and this one was no exception.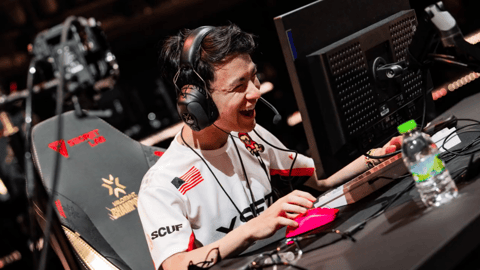 Valorant is breaking viewing records on the streaming platforms day by day as Champions 2022 is the event even non-Valorant people get so jealous of.
Zekken Proved His Worth In This Match
During this match, Valorant had over 350 thousand concurrent viewers and it was for a reason. Based on the match result many people would think XSET stomped XERXIA in a 2-0 victory, but for the ones witnessing this super exciting match that was not the case. There were so many unique things happening in this game, like people not checking their corners, and the world record on thrifty was also broken (6).
TRIGGER. DISCIPLINE. @foxzfoxzfoxz | #VALORANTChampions pic.twitter.com/l76UjsXy07

— VALORANT Champions Tour TR (@ValorantEsports) September 3, 2022
Zekken was the player to keep an eye on as he had an astonishing performance in both of the maps played. Apart from his good plays, there was also a moment everyone got so tense from. In Fracture Round 18 Zekken was approaching A from Dish to Drop and he didn't check the corner where Foxz was camping.
At this moment we could see what it means to be a Radiant player where Foxz showed immense patience and waited out while everyone was awaiting for the skirmish to begin. Once dephh showed Foxz immediately took the frag on both of them and got a round of applause from the audience.
366 ACS | 30-14 | 234 ADR pic.twitter.com/GDcEYVqdCP

— XSET (@XSET) September 3, 2022
This situation did not tarnish Zekken's reputation as his overall performance in this duel was worthy of the praise he got in Twitch chat and Twitter. The tweet above showcases his stats in Map 2 where he dished out 30 frags for his team and was super clutch in this almost even battle.
Match Summary

| | | |
| --- | --- | --- |
| | XSET | XERXIA |
| Fracture | 13 | 11 |
| First Half | 6 | 6 |
| Second Half | 7 | 5 |
| Icebox | 13 | 10 |
| First Half | 7 | 5 |
| Second Half | 6 | 5 |
There wasn't a moment in the game where we could say that a team was ahead of the other on either of the maps that they played today. Both on paper and ingame the teams were almost equal and every round gave us a big question mark about who will win it. This game also showed us yet again that Chamber is probably the most stable pick of the tournament, and it will be super hard for us to see a team missing out on him.
Watch Out For These Teams During Valorant Champions!

View gallery
This game was XSET's first international win ever and with it, they now split the first place of Group C together with FunPlus Phoenix whom they will meet next today on the 4th of September at 20:00 CEST. With a win against FPX, XSET will advance out of the group directly into the playoff bracket. On the opposite side, XERXIA will have their elimination match against KRU Esports where they will have to win if they want to stay in the competition.
DIFFERENT. @zekkenVAL pic.twitter.com/acHk3eIKLz

— XSET (@XSET) September 3, 2022
We have no doubt that the Thai team will give their best against Kun Aguero's teams and after watching these two immensely tense games from Group C, we know what to expect tomorrow. If you don't want to miss out on more Valorant and Champions news keep track of our Valorfeed Esports Section where we regularly post about anything Valorant.