Recent leaks have revealed the map rotations that are due to come in less than two weeks. Here's which two maps are coming back and which will be put out.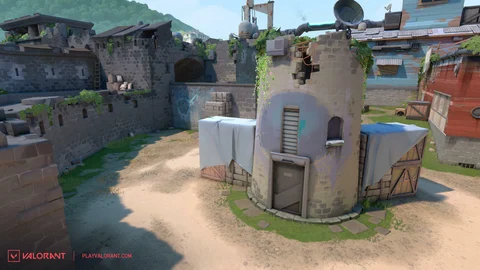 The new Act is right around the corner, and it's probably the best time to prepare yourself for the new Map Rotation. The last map rotation was three acts ago, and what is coming in this one will surely surprise you.
Valorant Episode 7 Act 2: All Maps In Ranked
The Map Rotation due to come was leaked by various sources on Twitter (X), so we should maybe take it with a grain of salt. It was also posted on the official Valorant Fandom website, so the change might actually be real.
BREEZE IS RETURNING TO VALORANT IN EPISODE 7 ACT 2, WITH NEW CHANGES!

Starting with Mid Pillar and Mid Cubby pic.twitter.com/UPOFF1IoDp

— Valorant Updates (@ValorantUpdated) August 18, 2023
Here's a table with the upcoming Map Rotation Changes:
| | | |
| --- | --- | --- |
| Patch: 7.04 | Maps in Pool | Excluded Maps |
| | Ascent | Fracture |
| | Bind | Icebox |
| | BREEZE | Pearl |
| | Haven | |
| | Lotus | |
| | Split | |
| | The Upcoming New Map | |
Valorant Map Rotation: Breeze Is Coming Back Together With A New Map
Fracture & Pearl will be the maps that will be out of the Map Pool, and Icebox will probably stay excluded until the next Map Rotation. In their place will come Breeze together with the new upcoming map which will probably be released in less than two weeks when Act 2 gets released.
Breeze will come with a few small changes:
Mid Pillar & Mid Cubby
B site & B Back
A Hail & Mid Wood Doors
A Shop & A Cabe
A Site
Breeze Changes | #VALORANT

> Breeze will be going into the rotation starting next act with Fracture & Pearl being removed. pic.twitter.com/xrHbK4SqTw

— Mike | Valorant Leaks & News (@ValorLeaks) August 18, 2023
If you're wondering which teams will be "nerfed" with the upcoming map changes, here's all you need to know:
Paper Rex loves playing on Pearl, and it's their Map Pick most of the time when available.
EDward Gaming have probably had the most Fracture picks, so a tough loss for them as well.

For more content:
This article contains affiliate links as indicated by the shopping cart icon. Please read the article carefully before clicking any links.