A new Valorant premium skin collection has been revealed, the Altitude bundle. It includes skins for Vandal, Odin, Bucky, Sheriff, and Melee.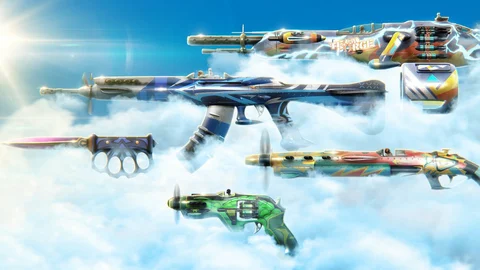 Riot Games has revealed the second premium skin collection following the reprisal of Oni with its 2.0 revision, and it's going to be one aeronaut enthusiasts will be particularly excited about - the Altitude bundle!
As the name implies, these skins will feature a very high-flying theme, inspired by aircraft of all kinds, but specifically, airplanes, with certain weapons featuring propellers and jet engines on another.
What's more, each gun has a pilot that's non-other than a Valorant agent! We've got all the information you need about the Altitude bundle right below.
Valorant Altitude Bundle - Release Date & Skins
The Valorant Altitude skins will be released on March 29, becoming the featured collection in the Valorant in-game shop. At that point, it'll stay for a few weeks until a new bundle replaces it.
Once this happens your only choice at getting them will be to wait for the daily rotator or get lucky with a Night Market discount.
The skins included are the following:
Vandal
Odin
Bucky
Sheriff
Melee Weapon
Valorant Altitude Bundle - Cost
At the time of writing, we don't know the exact price for the bundle or the individual skins as their tier has yet to be revealed. That means we have no details regarding what type of VFX, if any, they'll include.
What we can say is that each weapon has a very unique style, with a miniature agent serving as a pilot! The Agents featured are Sova (Vandal), Viper (Sheriff), Raze (Bucky), and Phoenix (Odin).

For more content: