The Stinger PBE changes made it to the live servers alongside some other interesting changes, particularly to Pearl.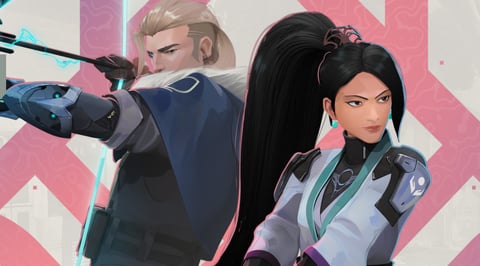 Ask and you shall receive seems to be the theme with Riot Games as, after pleading for some Pearl changes, the developers have granted Valorant fans their wishes with some interesting reworks of both sites and mid.
That isn't the only thing featuring on this patch, remember the Stinger changes Riot decided to try out on the PBE a few weeks ago? Well, they also made it to the live servers in what could potentially see the low cost SMG become meta like it used to be.
There's plenty of stuff to sink our teeth in so let's not beat around the bush.
Valorant Patch 5.06 - All Buffs & Nerfs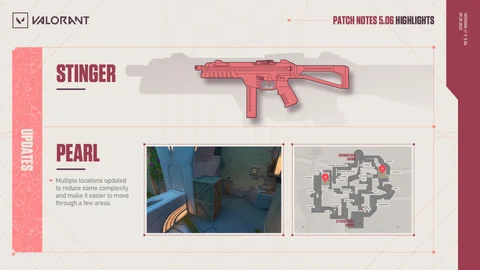 WEAPON UPDATES
STINGER
Primary Fire error adjusted from 1.6 error after 7 bullets >>> 1.3 error after 6 bullets
Alt Fire first shot error adjusted from .5 >>> .35
MAP UPDATES
PEARL
B Main - Lowered waist-high wall on the left side of B Main so that it can no longer completely hide anyone
Mid Shops - Clearing this area in Mid Shops is harder than Riot intended. By extending the platform, they're still keeping some of the holding power for attackers, but making it easier to push this area
Mid Shops to Mid Plaza - This is another spot on Mid Shops that's proven to be painful to clear when trying to move through mid. So Riot removed one of the corners
Mid Top - Mid currently favors attackers so Riot pushed in a wall on Mid Top, to remove a 50-50 check. This should make it slightly easier for defenders to challenge mid
A Art - The devs noticed the difficulty both sides have had moving effectively through A Art. They're simplifying the space so there are fewer areas to check.
B Link - A box coming through mid now provides a good piece of cover for attackers pushing B link, but it's been tough to re-clear for defenders. Riot is keeping a little attacker-side power, but making it easier for defenders to manage. The stack of boxes cover closer to the site will shift from the left side to the right, to simplify the number of angles approaching players need to consider, as well as close a difficult sightline to B Hall.
A Main - Removing a cut out on the wall of A Main to simplify the space, which should also make this area slightly easier for defenders to aggro into
A Main to A Site - This spot was unnecessarily tough to smoke effectively. By tightening the choke by a margin, we hope to make smoking easier and give a small buff to defenders (i.e, a new utility spot). The cubby on the right will also shrink slightly to keep it from being too deep
For more updates including bug fixes and other miscellaneous stuff, read Riot's full article regarding the patch.
For more content: