The most renowned LoL player in the world played a few matches of Valorant alongside his fellow T1 teammates to hilarious results.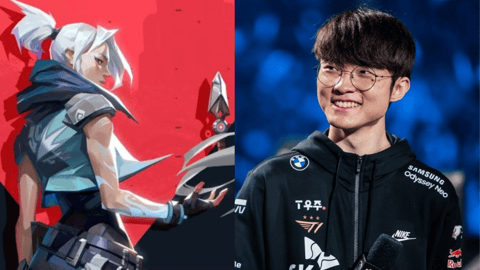 Everyone knows how good the legendary Lee "Faker" Sang-hyeok is while playing League of Legends. His prowess and longevity have led him to become a three-time Worlds Champion, lifting 10 LCK (League of Legends Championship Korea) trophies during his career.
While he's earned, and rightfully so, the nickname of League of Legends GOAT, seeing him dabble in other genres and competitive titles is a treat, simply because it's a rare sight due to how much time he has to invest in an ever-changing MOBA like League.
It wasn't any planned publicity stunt by Riot or T1, it was simply a spur-of-the-moment by Faker and his teammates. The GOAT asked Choi "Zeus" Woo-je that they should play Valorant instead of Overwatch, jokingly adding: " If you play this [Overwatch], Riot won't be happy."
T1 x Valorant(?) kk

Faker: Wanna play Valorant?

Zeus: Valorant's no fun, I don't like Valorant.

Faker: If you play this [Overwatch], Riot won't be happy.

Keria: Let's play! Let's play Valorant!

Zeus: Minseok hyung says play Valorant, do you know how to play hyung? (...) pic.twitter.com/IFvwxrJCwI

— Linda Pro League (@iCrystalization) November 22, 2022
Sadly for his fans, Faker wasn't interested in streaming his Valorant journey, simply opting to enjoy a nice time gaming with fellow T1 teammates, and most importantly, friends.
He did share via Weibo, China's number-one social media platform, that he managed to get Team MVP in one of the matches they played with a 13-14 KD ratio. Not particularly the most impressive stats card, but who are we to criticize the GOAT.
They played Valorant together and Faker got MVP at the end~~

(cr: https://t.co/rADlbv9osK) pic.twitter.com/N5YMSa72Gr

— Linda Pro League (@iCrystalization) November 22, 2022
This has led us to think - which Valorant team could take on the Summoner's Rift and conquer it? Could it be the new and improved Sentinels? Maybe an EMEA side like Team Liquid? Maybe one day Riot can organize a great exhibition match featuring both games! A man can dream...
For more content: