Want to immortalize your stats alongside your main Agent? Now you can with the official Valorant Badge!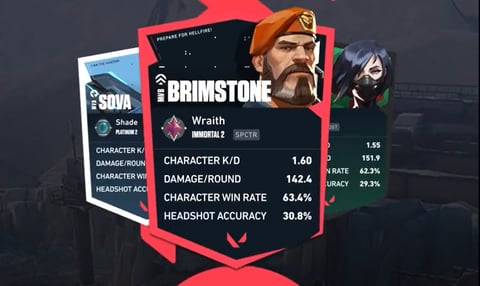 Sharing your Valorant accomplishments is something everyone can do in style now thanks to Riot Games' newest implementation - My Valorant Badge!
The neat little visual feature lets you choose your favorite agent, and a nice color scheme and the creator will automatically pull your stats such as KD, Damage/Round, Win Rate, Headshot Accuracy, and Rank.
So, how do you actually do them? Let's find out!
My Valorant Badge - How To Create
The process to do it is relatively simple, follow the next steps:
Head over to the My Valorant Badge page
Click on Create Your Badge
You'll have to sign in to your Riot Games account
Once there, select the Agent you want to create a badge for and the stats will load automatically
Next, select the color scheme for your badge
Finally, click on save and share, this will let you share it on social platforms such as Discord, Twitter, or Facebook, as well as getting a direct link to the badge
You can create more than one badge for all Agents you have played in ranked! If you're not keen on showing off your Riot ID, there will be an option to hide it from the badge.
The feature is available in the following languages:
English
Spanish
Brazilian Portuguese
Arabic
So there you have it! It's a cool little feature that will help you showcase your skill in a very aesthetic way with your friends or strangers on social media, so don't be afraid to utilize the My Valorant Badge feature in the near future. We're looking forward to seeing all of yours!
For more content: