After KOI's elimination, EMEA fans got a win after Giants eliminated Japan's DetonatioN FM on day 1 of LOCK//IN.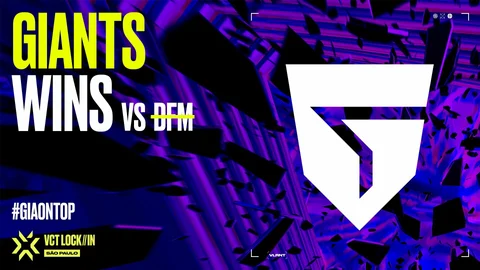 Valorant LOCK//IN has already given EMEA and NA fans plenty to talk about. First, we saw the NRG superteam (comprised of former OpTic Gaming members for the most part) take down a resilient KOI Esports. Now, Giants recouped some honor for EU after beating and eliminating Japan's DetonatioN FM from the tournament.
As we've mentioned before, the LOCK//IN event, which groups the 30 franchised teams plus two more invited ones, is a single-elimination tournament, a first for Valorant esports and events of this caliber. That means, a single bad day and it could be over for some of these teams with no chance at redemption via the lower bracket.
For Giants it seemed like another day in the office, as DetonatioN FM never seemed to be able to match their intensity and map awareness with the EMEA reps dominating Haven in a mirror match comp, as both teams opted for a traditional lineup that included Astra, Sova, Breach, Jett, and Killjoy. Clearly, Giants fundamentally understood the win conditions of such a classic comp better than their opposition.
Incredible round by @GiantsGaming #VCTLOCKIN pic.twitter.com/lAX6gGvcAq

— VALORANT Champions Tour EMEA (@valesports_emea) February 13, 2023
Icebox faired a bit better for the Japanese organization, going for a different composition, switching Sage for KAY/O and Raze as their duelist instead of Jett. An 8-4 half gave them hope once more to pull off an insane upset, one that wasn't meant to be thanks to Žygimantas "Nukkye" Chmieliauskas, who took the battle Sage meme and turned into a reality with 249 ACS and 20 frags.

With this result, Giants will now face NRG in the Round of 16 at LOCK//IN.
For more content: