A big slipup from G2 CEO Carlos "Ocelote" Rodríguez would have left his org without a guaranteed spot in the upcoming franchised Valorant circuit.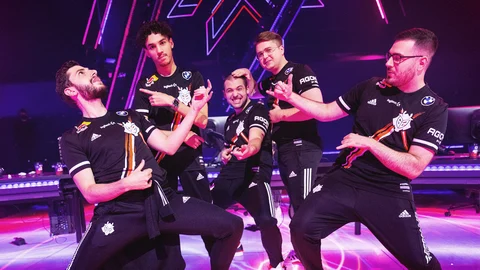 The memories we've made at Valorant Champions 2022 are still fresh and while LOUD continues to celebrate their historic win, the talk of the community has shifted to the future focusing on which organizations are seemingly left out of the Riot Games partnership program, with G2 being one of the biggest absentees according to several reports.
If you're unaware, we have a dedicated article that explains the future of Valorant esports but the tl;dr is that 30 teams will be selected as partners for the upcoming 2023 International League system and beyond which will be comprised of three - VCT Americas, VCT EMEA, and VCT Pacific.
Several Valorant insiders and reporters, like neLendirekt, commented that G2 Esports had a spot locked in for the VCT North America League, an interesting move to say the least since the organization had been competing in EMEA these past two years.
Sadly, a "recent controversy," which we can safely assume refers to G2 CEO Carlos "Ocelote" Rodríguez seeing partying with known misogynist Andrew Tate, has led to Riot taking a complete u-turn on their decision, leaving the org and its players without a chance to compete in 2023, at least under the G2 banner.
VALORANT: Sources told me that G2 is OUT of franchising (NA & EU) for next year because of recent controversy.

G2 had a spot locked in NA, but Riot had an emergency meeting and decided otherwise. Likely LEV is having the last NA spot.

— neL (@neLendirekt) September 20, 2022
Dot Esports' George Geddes later backed the original report, confirming with his own sources that G2 was in fact being removed from the Riot partnership program.
New: Recent developments point to G2 being OUT of contention for any partnership league next year.

I have confirmed it myself, @neLendirekt has just reported it also. pic.twitter.com/IjZLV4dWeX

— George Geddes (@GeorgeCGed) September 20, 2022
NeLendirekt also stated that, as a result of this decision, LATAM's Leviatán would be taking up the spot left by G2, making it the second team from the region to join VCT Americas, as KRU is also a lock according to reports.
OpTic Gaming & TSM also left out
G2 wasn't the only high-profile team that's not going to potentially be taking part in 2023's Valorant Leagues, as both OpTic Gaming and Team SoloMid didn't make the final cut. Esports reporter Kevin Hitt tweeted out that both had missed out on the opportunity, with Dot Esports backing the OpTic rumors later on.
Sources: TSM and OpTic will not be one of the 30 partner teams for the initial Valorant franchise league. #VALORANTChampions #Valorant

— Kevin Hitt (@Kevin_Hitt) September 20, 2022
Of course, all we can say is take all this information with a grain of salt, but if all rumors end up being true, North America will be missing out on at least three big organizations for the start of the VCT Americas League.
For more content: