We've gotten ourselves in situations countless times where we are in love with a certain skin, but keep checking if the price matches our budget for the month. This article will help you make the conversions yourself.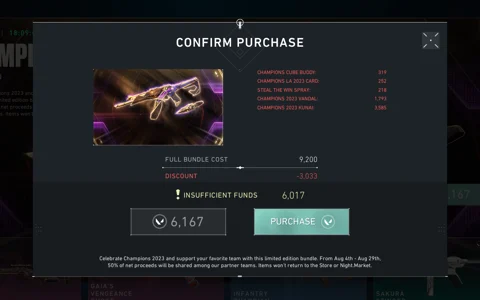 Valorant Points are the main currency in-game and are used when buying almost any weapon skin in the game. With the latest introduction to Kingdom Credits in patch 7.00, we have a third one alongside the Radianite Points to form the ultimate paying trio.
Currency To Valorant Point Conversion
In this article, we will be using the standard VP prices for the EU region as they are the most common ones in the Valorant Market.
Calculating Valorant Points into any Currency can be tricky, as the prices vary and depend on the amount of VP you are buying.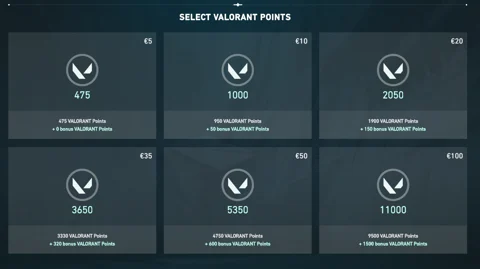 Let's start with the standard chart and how much you're paying per 100VP.
| | | |
| --- | --- | --- |
| Amount | Price | Price per 100 VP |
| 475 VP | €5 | €1.052 |
| 1000 VP | €10 | €1 |
| 2050 VP | €20 | €0.975 |
| 3650 VP | €35 | €0.958 |
| 5350 VP | €50 | €0.934 |
| 11,000 VP | €100 | €0.909 |
In terms of discount % per offer, here's how it looks like:
475 VP - 0% discount

1000 VP - 5% discount
2050 VP - 7.3% discount
3650 VP - 8.76% discount
5350 VP - 11.21% discount
11,000 VP - 13.63% discount
The more the merrier. This is a marketing strategy used by a lot of companies and gives the "valuable" clients extra stimulation for their money spent. When big streamers switch to Valorant, they usually just spend the 100 bucks and build up the foundation of their skin collection.
Valorant Protocol 781-A Bundle - Skins, Cost & More

View gallery
Weapon Skins Prices In Currency
Next up we will do a quick summary and an example of how much you would pay for a weapon skin or collection by using various offers from the VP market.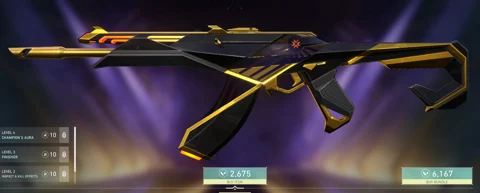 The Champions Vandal is the newest Vandal skin to the game and is seen quite frequently in the games. That means that a lot of players have bought it, and Riot did a good job designing their newest skin addition.
The price of the item is 2,675 Valorant Points, and if your in-game wallet is empty you have a couple of ways to top it off to have enough for the Vandal:
You buy 1 set of 2050 VP & another 1000 VP
You buy 1 set of 3650 VP
You buy 1 set of 5350 VP

You buy 1 set of 11,000 VP
The first option is the most effective one, as you would have just enough for the Vandal and you wouldn't spend any excess money.
Time to shine with the #VALORANTChampions Collection pic.twitter.com/16jIzXKEyc

— VALORANT (@VALORANT) August 11, 2023
Now, this is the price in euros per the ways explained when purchasing the skin:
For the first way, you would pay a total of €30, or €26.23 for the skin alone and you would have 325 VP left in your wallet
For the second way, you would pay a total of €35 or €25.62 for the skin alone, and you would have 975 VP left in your wallet
For the third way, you would pay a total of €50, or €24.98 for the skin alone, and you would have 2,675 VP left in your wallet
For the fourth way, you would pay a total of €100, or €24.31 for the skin alone, and you would have 8,325 VP left in your wallet
There are countless thinking processes, and it all depends on you which one you take. If you spend more money you would get more value out of it, but you are spending more money. If you spend just enough, you would be slightly paying more than if you spend more money, but you will have that excess money still in your bank account.


For more content: