Connection Errors don't always mean internet problems. In this article, we will help you solve VAN -104 in just a couple of minutes.

Error Code VAN 104 classified as a Connection Error is something you might get struck upon while launching Valorant. It has a wide range of background causes that might trigger it.
Some of them are:
Unstable Connection
Extremely slow Internet Speed
Bad Valorant launch
Riot Vanguard problems
To help you solve this error code we will list the most successful solutions per Error Code reasoning.
Check Your Internet Connection
As stated before, VAN 104 is a Connection Error and could be triggered by a bad or unstable internet connection. This can happen due to the fact that the internet is a sensitive Area and is a must-have when playing multiplayer games. To connect to the Valorant servers you will need to preestablish an Internet Connection when launching the game.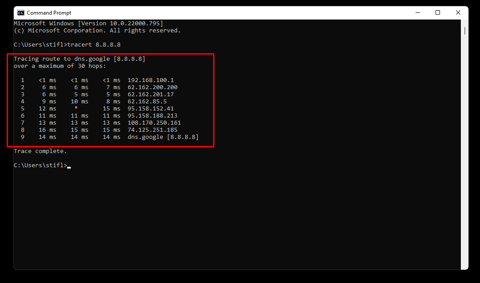 To make sure everything is good with your internet you should:
If you are using Wi-Fi make sure the wireless connection is stable and doesn't decrease in range and quality
If you are using a Lan connection, make sure the cable isn't damaged and is properly plugged in on both sides (Router and Motherboard)
Restart your router
Try opening the game on another Network (You can try your phone hotspot)
Do a "tracert 8.8.8.8" command on your CMD to check if it's an Internet provider problem
Make sure you don't have a VPN turned on, and if that's the case turn it off
To determine if it's a provider problem we can simply use the CMD command to trace root our Connection to the google DNS which is 8.8.8.8. As shown in the picture above you can see the values provided in MS that determine whether there's a problem or not. High values indicate a provider/router problem and low values indicate that everything is fine. Anything up to 80 is a normal-range value, and above 80 shows that there is an underlying problem with your connection
These are all the possible solutions that will fix this error code if your Connection is causing it.

Restart Everything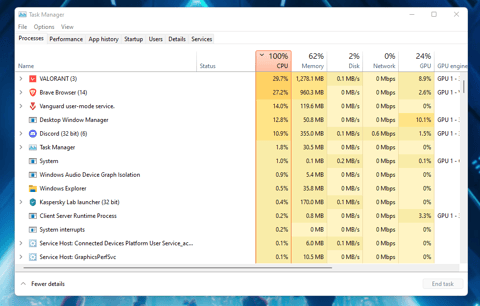 Your go-to solution to everything Error-related should be a restart. The leading cause (reported by players) for this Error Code has been a bad launch of the game. In 90% of the cases, a simple restart of the game and Riot Client will do the job. If the initial restart doesn't help, make sure you open your Task Manager and force close every Riot-related process that's in there.
That will ensure you've made a complete restart of the game, and every launch-related process has been started from scratch. Apart from restarting the game, a PC Restart is something that might help a ton, since it will eliminate any Device or OS problem during launch.
Teams To Watch Out For During VCT Masters Copenhagen

View gallery
Change the VGC Service Startup Type
Before reinstalling the Riot Vanguard we can try to fix it ourselves by changing the VGC Startup Type. This startup is crucial to ensure a valid service start of the process. If this one fails you will for sure trigger the VAN 104 Error code.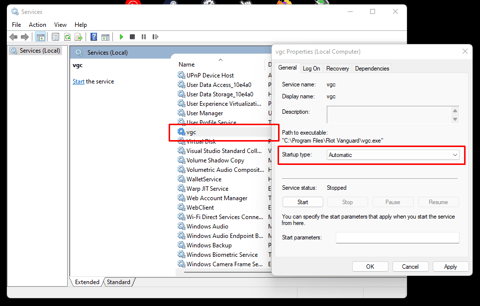 To change the Startup type we should:
Hold Windows Key + R to open the Windows Run program
Once opened type "services.msc" and click Enter
When the new window opens, try to find the vgc service
If you have trouble finding it, click V and it should be the first one upon sorting to the letter V
After finding it, right-click on it and click Properties
On the Properties Windows, Change the Startup Type to Automatic under the "General" tab
Click Start and select OK.
Once done, try opening Valorant, and if the problem persists you might need to completely Reinstall Vanguard.
Reinstall Riot Vanguard
The second most common cause for Error Codes has been the Riot Vanguard and it isn't excluded in this one either. If changing the VGC startup type didn't work, your only left solution is to reinstall the Riot Vanguard.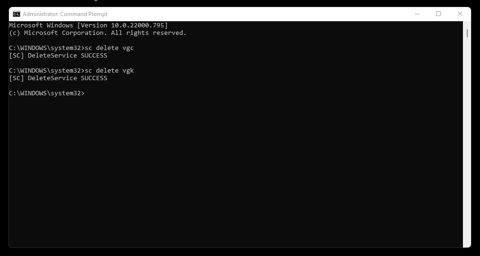 To Reinstall Riot Vanguard you should:
Make sure everything Riot related is closed, you can do this by checking in the "Process" tab in Task Manager
Open the Windows Search bar, Type CMD in it, and right-click Run as Administrator on the "Command Prompt" icon
Type in the following commands one after another: "sc delete vgc". After typing it click enter and afterward type in "sc delete vgk" and click enter again.
For the changes to take effect, restart your computer
After finishing the first "Reinstalling Vanguard" task, we will move on to the second one. Our second task is to locate the Riot Vanguard folder and delete it. The easiest way to find it is by typing Vanguard in the Windows Search bar. Its usual location on your PC is in C/Program Files/Riot Vanguard. After successfully deleting Riot Vanguard you should open the Riot Client and it will automatically install Vanguard again.
Once the installation is over, open up Valorant and prepare yourself to slam some pubs.
If you were wondering who the Top 5 Highest Earning Valorant Teams are,check out our gallery below!
Submit A Ticket To Riot
Not every problem is a problem we can solve on our own. The advice from the dev team is to try everything that we can to solve the Error Codes, and as the last option to contact them to find a solution as quickly as possible.

To submit a Ticket to the Riot Dev team you should:
Open the official Valorant Support Website
Make sure you are logged in to your account, and if you aren't you can do that by clicking the "Sign In" button that's located in the top-right corner
Once done, scroll down on the page until you find the "Submit a Ticket" button, and upon finding click it
Request type should be "Technical Issues: Install, patch, lag or crashes"
On the next page fill out all the needed information by explaining your problem in every possible detail
When done, Click on "Submit
Their Support/Dev team doesn't take too long to answer as compared to some other game development companies, and you should expect a response from them as soon as possible. These are all the possible solutions to this Error Code problem, and we hope you found yours in our article.
In case you ever need help with any similar problem, don't hesitate and visit our Valorfeed Guide section where we post about ANYTHING VALORANT!