The playoffs have been wild so far, and day 5 will be special because fan favorites LOUD, DRX, Fnatic & EDG will be playing their survival matches. Here's all you need to know about it.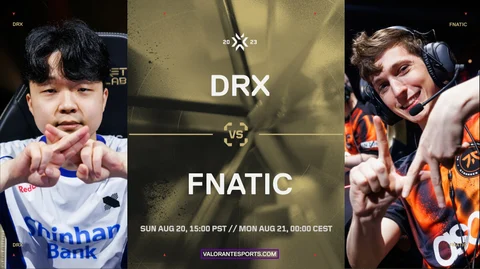 Reaching the Lower Bracket Quarterfinals is surely an achievement worth bragging about, but once you're here your ambitions tend to rise which ends up in extremely stressful moments while playing them.
Valorant Champions Playoffs Day 4 Recap
The previous day was filled with excitement and late drama.
Here's what was going on on day 4:
LOUD vs Paper Rex

Map 1 Lotus: LOUD 13:15 PRX
Map 2 Split: LOUD 13:2 PRX
Decider Map Pearl: 10:13 PRX
DRX vs Evil Geniuses
Map 1 Fracture: DRX 9:13 EG
Map 2 Lotus: DRX 4:13 EG
Decider Map Split: //
Two squads advance in the Upper Bracket. #VALORANTChampions pic.twitter.com/QpJtkY5s0b

— VALORANT Champions Tour (@ValorantEsports) August 20, 2023
Where To Watch Day 5 Playoffs Valorant Champions 2023
Champions 2023 has two types of streams in which you can follow the event. The Official ones with commentary, or the watch parties that are streamed primarily by the content creators.

These streamers and content creators are watching #VALORANTChampions Los Angeles with the rest of the Pacific!

Join in the watch parties and witness our four representatives #MakeWaves pic.twitter.com/7kOjQ179FH

— VCT Pacific @ Champions (@vctpacific) August 7, 2023
Valorant Champions 2023 Streamer Watch Parties
These are the more popular streamers' watch parties you might be interested in:

Tarik
Subroza
Kyedae
ShahZam
Kuba
Mixwell
In the tweet below you can see the other official Watch Parties that you can tune in to during Champions 2023

The official #VALORANTChampions Watch Party list is here!

Who are you watching with? pic.twitter.com/GNdUImcOQ2

— VALORANT Champions Tour (@ValorantEsports) August 5, 2023
Official Champions 2023 Streams With Commentary
English Stream (Primary):

German Stream:

French Stream:

Turkish Stream:

Latin American (ES) Stream:

Filipino Stream:

Valorant Champions Playoffs Day 5 Schedule
Day 5 will be the first day of Champions that will be crowdless. Los Angeles will have severe weather problems, and there will be no live audience. Everyone that has a ticket for the day will be refunded, and this status will probably stay until the weather normalizes.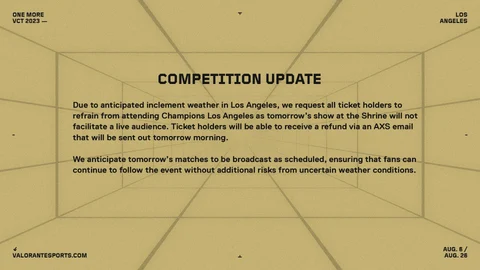 Here's the schedule for the Playoffs Day 5 games:
LOUD vs EDward Gaming - 9:00 PM CEST / 12:00 PM PT / 3:00 PM ET
DRX vs Fnatic - 11:00 PM CEST / 2:00 PM PT / 5:00 PM ET
Valorant Champions Playoffs Day 5 Expectations & Head to Heads
LOUD vs EDward Gaming Expectations
The Brazilians started off the event quite slowly, and the public's expectations got lower for their final placement at this year's Champions. The deeper we went into the event the better LOUD became, and they've already secured a top 6 finish.
EDG on the other hand is the team that surprised everyone at Masters Tokyo and continues to do so in Los Angeles as well. Kang Kang is a beast, and as long as his hand is on fire, EDG's confidence stays high.
There is no doubt that this matchup will be close, with LOUD having the slight upper hand over EDG. Both teams can outperform themselves and take the W.
16h vs EDG valendo a vida no #VALORANTChampions

Contamos com a torcida de voces mais uma vez

— LOUD aspas (@loud_aspas) August 20, 2023
DRX vs Fnatic Expectations
The team from the "One Team Region" *insert drama*, even said themselves that they were expecting their win streak to end eventually. Regardless of the lost game vs LOUD, Fnatic are still on top in terms of the Title Expectations, and this lower-bracket journey won't change anything.
DRX are the clear underdogs in this one, and their recent bad performance against EG showed that they might not have what it takes to go forward in the event. There is room for upsets and excitement, but the general public opinion is that Fnatic will roll past anyone in the lower bracket up until they reach the Grand Finals.
Boaster is more than ready for this one. Bring it on.
Game day vs DRX pic.twitter.com/zGoSRNzYkw

— FNATIC Boaster (@OfficialBoaster) August 20, 2023
Valorant Champions Playoffs Day 5 Head to Heads
Here's how the teams did against each other in the previous times that they've met:
LOUD vs EDG

VCT 2023 Masters Tokyo: LOUD 0:2 EDG
DRX vs Fnatic
VCT Champions 2021: DRX 1:2 Fnatic
VCT Champions 2022: DRX 2:1 Fnatic

For more content:
This article contains affiliate links as indicated by the shopping cart icon. Please read the article carefully before clicking any links.