With Valorant 5.03 update delayed over a week, Riot will reintroduce old skins to the in-game shop as part of the Run It Back 3 bundle.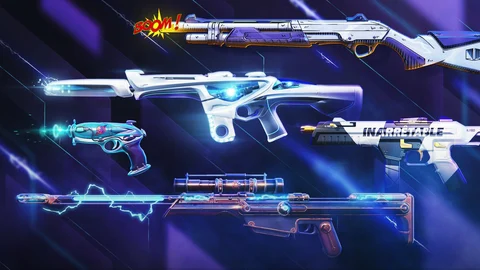 With the game engine set to receive some more needed maintenance, the new update will now launch on August 9, leaving room for a Run It Back bundle to become the featured collection for a few weeks.
These bundles feature previous skins from different collections all packed into one. Usually, they are cosmetics the community gets excited about, this time though, that doesn't seem to be the case if we judge according to social media reaction.
Regardless, having the option to buy the Ion Phantom alongside other skins is always good for fans that have missed out on it. Here's everything you need to know about the Run It Back 3 bundle.
Run It Back Bundle 3 - Release Date and Skins
The Run It Back 3 will hit the Valorant in-game shop featured section on 27 July and will leave the store on 10 August, at which point it will be replaced by an entire new collection.
The skins available in the bundle include the following:
Ion Phantom
Gravitational Uranium Neuroblaster Classic
Radiant Crisis 001 Bucky
Magepunk Operator
Ego Stinger
Run It Back Bundle 3 - Price
The cost of all the skins will be similar as every single one belongs to the Premium tier of cosmetics, that's the third most expensive tier below Ultra and Exclusive. Each skin will cost 1775VP, so better save up if you want to buy one before they leave the in-game featured section.
And that's all you need to know about the Run It Back bundle 3 collection! Maybe you were lucky enough to get one of these during a Night Mark, or you bought it when they came out, in any case, it's a good option to take a break from newer collections.
For more content: