Istanbul will host the upcoming Valorant LAN and will have live crowds after the initial group stages.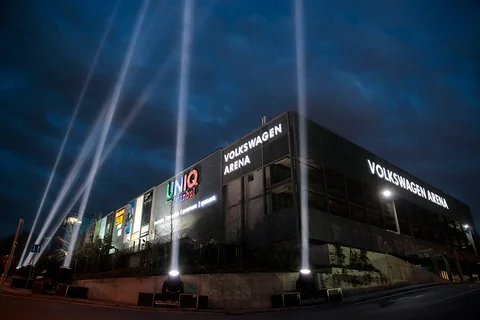 Live crowds are a part of esports, their palpable emotion feeds players and makes intense moments even more hype, which is why the announcement of Valorant Champions boasting a live audience has fans and players gushing with excitement.
Riot Games confirmed that starting with the playoffs, a live audience will be present for all the play-off matches of Valorant Champions at the Volkswagen Arena in Istanbul, Turkey.
Hey players! We're excited to share that #VALORANTChampions Istanbul will take place at the VW Arena & have a live audience starting with the Play-Off bracket, Sep 9-18th! pic.twitter.com/eKBpVutung

— VALORANT Champions Tour (@ValorantEsports) August 19, 2022
The Volkswagen Arena, a multi-purpose indoor arena, has a capacity for over 5,000 fans. While not the biggest venue, the fact that Valorant fans will enjoy the end-of-year international LAN with fans for the first time is a positive sign for the future of the community moving into 2023.
Valorant Champions will kick off on August 31 with the group stage matches. The initial part of the event will last until September 5. All of these matches will be played with no crowds.
The real fun, as Riot mentioned, starts on September 9 with the double-elimination bracket. In total, the VW Arena will play host to 14 Valorant Champions matches, all best of 3 affairs but the grand finals and lower bracket finals, which are best of 5.
Regarding ticket purchases, Riot mentioned the following:
We're working quickly to finalize ticket purchasing info for Champions and will provide more info soon. Thank you for bearing with us - for future events, we commit to providing much longer lead times.
So there you have it! If you're interested in getting to see the culmination of Valorant esports in 2022, we hope you do manage to snag a couple of tickets for you and your friends!
For more content: