Fnatic and Liquid will have to battle their way into the Champions from the lower bracket.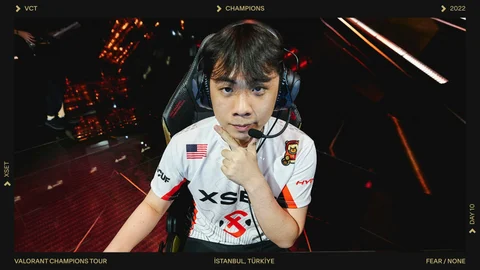 Tournaments featuring double-elimination brackets are a vibe! It's an even bigger dramatic scene when giants like Liquid and Fnatic drop to the lower bracket officially forming the "Lower bracket Of Hell" where the Copenhagen Champion FPX awaits them.
Watch Out For These Teams During Valorant Champions!

View gallery
OpTic and XSET Kept NA's Pride
Day 10 was all about that NA vs EU hype. even though they had a sloppy start to this tournament all 3 EMEA teams managed to advance to the play-off stage, you can read more about this in our All EMEA Teams Make It Into The VCT Champions Playoff Phase article.
Team Liquid versus OpTic
The first game of the day was OpTic vs Liquid, a match everyone was very hyped about as we know what these teams bring to the table. First map was Breeze, and Liquid took Optic straight up in a stompy 9-3 first half where soulcas and ScreaM showed immense performance on the Defence. In the second half, OptiC showed some signs of life, but their attempts were futile as yay's clutch performance on Chamber wasn't enough for them to get back in Map 1.
4K for @ScreaM_!

MAP POINT for @LiquidValorant! #VALORANTChampions pic.twitter.com/LJJX05rcWJ

— VALORANT Champions Tour TR (@ValorantEsports) September 10, 2022
Bind was a rollercoaster with somewhat even performances on both sides with OpTic leading 6 to 5 after the first half. Victor's performance in the second half was what helped OpTic push to a Map 3 with a super clutch moment at round 17. Afterward OpTic closed out the game 13 to 8.
Decider Map was Ascent, and OpTic.yay had something to prove in the game because he was playing out of his mind. We don't even need to say what Agent he was on, as he didn't hesitate on picking his signature Agent this Tournament - CHAMBER. You can already see people on Reddit and twitch chat complaining how buffed he is in this patch. First half - 8 to 2, and the spike exploded only in Round 3, every single round was won by kills. The loud " Let's Go Liquid" chants didn't bother El Diablo, as his 30 frags were more than enough to secure OpTic's victory and they proceed to the Upper Brackets!
| | | |
| --- | --- | --- |
| Match | Result | Maps |
| Team Liquid versus OpTic Gaming | 2:1 | Breeze (13:7), Bind (8:13), Ascent (13:8) |
XSET versus Fnatic

With Liquid gone to the lower bracket, Fnatic was the only EMEA team left in the upper bracket with a crucial test ahead of them to stay there, and not drop to the lower bracket of hell. In both games, it was all about the Chambers, as they were topping the KDA board in both of the games played in this matchup. Cryocells came In hot with an 11-0 Score and a super clutch performance in the first five rounds as he jumpstarted XSET to a 5:0 lead.
11-0... @Cryocells_ pic.twitter.com/a2dLFUjKZB

— XSET (@XSET) September 10, 2022
The crowd was screaming Alfajer's name which probably boosted Fnatic's mood a bit but their comeback wasn't successful in Map 1 as they lost 13 to 8.
Fnatic is known to be good on Fracture as they picked this Map and hoped to push it to a Decider Map. It was Derke's time to shine as it was his turn to dominate the map with Chamber and so he did! First half finished 7:5 in favour of Fnatic and everything was going according to plan.
TIED GAME! @XSET | #VALORANTChampions pic.twitter.com/y0FUCfrZh4

— VALORANT Champions Tour TR (@ValorantEsports) September 10, 2022
Istanbul home fans were massively cheering for Fnatic as their Alfajer had to win the game to stay in the Upper Bracket. Game got tied at 9-9 and it seemed like XSET was getting their momentum back and were beating Fnatic at their chosen map.
What was notable at the end of Map 3 is the game being tied again at 11-11 and Derke was alone versus 4. YOU COULD FEEL Istanbul shaking as the whole crowd was cheering for Derke to win it and save Fnatic in this crucial match. The crowd was going nuts after he managed to get 2 frags and reduce the enemy players to two, but Cryo's sniper trigger was faster and Fnatic's hopes were crushed. XSET marked this an NA win over EU as they won Fracture 13 to 11.
| | | |
| --- | --- | --- |
| Match | Result | Maps |
| XSET versus Fnatic | 2:0 | Pearl (13:8), Fracture (13:11) |
Valorant Champions Day 11 Schedule
HOMETOWN HERO vs. THE BROTHER BUFF

The clash of EU heroes is finally here as @LiquidValorant and @FNATIC face off. Who's packing up their keyboards and headed home? Tune in to Day 11 to find out!

Watch #VALORANTChampions live at https://t.co/io2c23tsMd pic.twitter.com/6WrSRla9OE

— VALORANT Champions Tour TR (@ValorantEsports) September 11, 2022
With EU teams dropping to the lower bracket, that's exactly what we're gonna watch on Day 11!
| | |
| --- | --- |
| Date | Match |
| 11.09, 16:15 CEST | FPX versus Leviathan |
| 11.09 19:00 CEST | Fnatic versus Team Liquid |
That would be all for the Day 10 recap of the Valorant Champions in Istanbul. We know that not everyone can watch the games live, and have time to just see what happened and that's why we are here! All of the Day Recaps can be found on our News and Esports Section on Valorfeed.