COVID-19 is still causing issues for a lot of organizations with EMEA's Fnatic having to play their debut LOCK//IN match from a quarantine facility.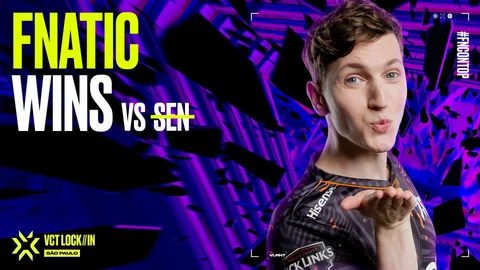 Fnatic in LAN events a COVID-19, name a better duo. That's right, even in 2023, the EMEA squad faced some health issues as Leo Jannesson had to play from a quarantine facility in his debut vs Sentinels at Valorant LOCK//IN, the first international event of the year.
Surprisingly, this didn't stop Leo from popping off and Fnatic from serving a disappointing exit to the incredibly hyped Sentinels roster, which now features two Valorant Champions 2022 winners with LOUD: Sacy and Pancada.
Fnatic Shuts Down New Sentinels Roster
What's worse for Sentinels fans is that, not only did Fnatic beat them even with a player quarantined, but they did so emphatically in 2-0 fashion, with neither map being particularly close.
First up was Haven, which Fnatic dominated on their defensive half taking it 9-3. Unaffected by the infamous curse, the EMEA squad only allowed Sentinels to take three defensive rounds of themselves.
Starting strong in Haven @Derke ON FIRE! #VCTLOCKIN pic.twitter.com/Ilt48NZIgc

— VALORANT Champions Tour EMEA (@valesports_emea) February 24, 2023
Despite playing from a remote location, Leo ended up out-fragging the entire Sentinels roster, accruing 17 kills and eight assists piloting the Sova.
Things on Split looked a little more even, even with the shocking news of seeing Tyson "TenZ" Ngo on the Sage rather than in his usual role of Duelist.
After a 6-6 half, Fnatic proceeded to demolish Sentinels' defense, most likely stemming from TenZ's unfamiliarity playing a more passive Agent and Raze player Zekken being completely shut down, only managing 7 kills on that map.

With this result, Fnatic will now play the winner of Furia vs T1 in the Round of 16 looking to continue their path of dominance.
For more content: