Riot Games has plenty of exciting stuff in store for Valorant Champions viewers, including both free and paid cosmetics, with an event battle pass also up for grabs.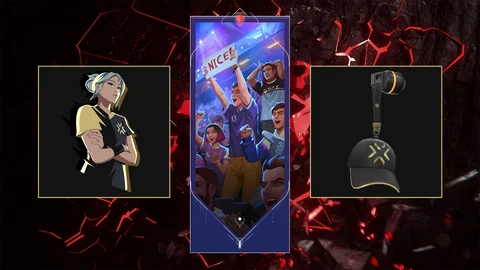 Whether you are interested in watching Valorant Champions or trying to rank in competitive, there will be something waiting for you during the event.

Maybe you want the premium Champions bundle with an incredible Phantom skin, or maybe you want to earn exclusive cosmetics for watching official Champions streams. There will be one more, completely free, option to earn some sweet loot - a free event pass!
Let's walk you through everything you need to know about the event pass for Valorant Champions, including how much time you'll have to complete it and what it includes.
Valorant Champions 2022 Event Pass - Schedule & Rewards
Starting on August 23 and lasting until September 21, you'll have access to an event pass featuring seven tiers of rewards, all completely free to earn. This is what you can expect to earn:
Level 1 - "Jett Diff" Spray
Level 2 - "Gamer" Title
Level 3 - 10 Radianite Points
Level 4 - "NICE!" Player Card
Level 5 - "Potato" Title
Level 6 - 10 Radianite Points
Level 7 - "Champions 2022 Dad Hat" Buddy
The biggest rewards are definitely the stylish Jett spray and the level 7 gun buddy, both of which you can see in the image above. If you want help racking up XP when the event pass is active, we recommend you check our dedicated article for all our neat tips and tricks to farm experience in Valorant.
Remember that Valorant Champions starts on August 31, and lasting until September 18, so you have plenty of time to play and enjoy some nice gameplay in the upcoming weeks.
For more content: