Connection issues can be tricky to solve. This article has all you need to get rid of this pesky one with just a couple of easy steps.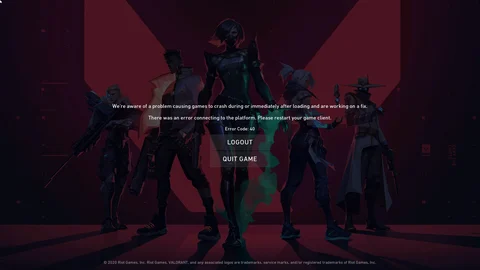 Error Connecting To The Platform - Causes
Valorant's error-recognizing system has a ton of error codes, and a lot of them are caused by connectivity issues. The "There Was An Error Connecting To The Platform", is one of them and shows up when the Riot Client has issues when connecting to the servers. The most usual cause for this are internet & hardware issues, else there's an Error Code 40, which means that the Valorant servers are unreachable.
How To Fix There Was An Error Connecting To The Platform In Valorant
Whenever you are facing a connectivity issue your first step should be to check if Valorant servers are down. To do that check out Valorant Down: How To Check Server Status. In most cases, the problem won't be on your side, and it will just take some time for Valorant to fix their server issues and the game will be back up as soon as possible.

Restarting Valorant & Riot Client
The 101 Guide on how to fix most PC-related stuff is to restart them. Valorant, like everything else, could have some launch problems, and a simple restart should fix them. To properly restart both:
Quit Valorant
Open the Task Manager by holding CTRL+ALT+DEL
In processes search for every Riot-related process
Once found, right-click on all of them and click "End Process"
Relaunch Valorant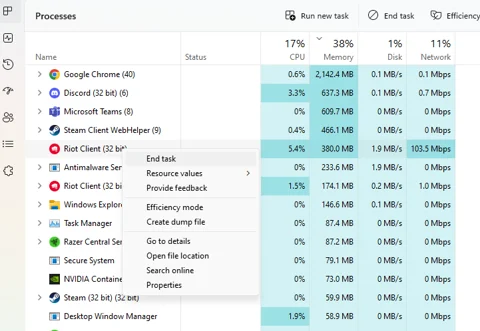 Restarting Your PC
If we're doing an elimination process to find out where the problem is lying, your second bet could be that there's a system-related problem. To fix anything related to the launching programs in your PC, just simply restart your PC. You can do that by pressing the Windows key, then clicking the "Power" icon, and afterward clicking on Restart.
Restart Your Router
Most of the guides that you will find on the internet will suggest flushing your DNS or in some cases changing it. You should never do that, and instead either Restart your router or work with your ISP provider on fixing the issues. The first solution should always be to restart your router.
To do that:
Go to your Router
On the back side, there should be a Power On/Off button
Turn it off, and wait 5-6 seconds
Then turn it back on
Afterward, wait for your Router to gain connection again, and once your PC has it as well, open Valorant and see if it works.

For more content: