We all stumble upon error codes once in a while in our gaming timeline. To not waste time trying various fixes, take this guide and quickly fix this nuisance.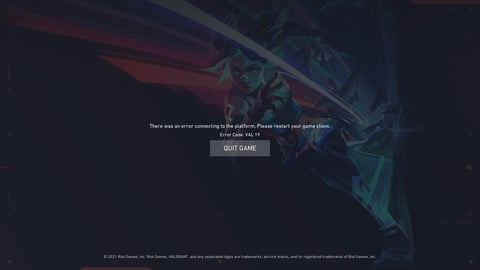 What is Error Code VAL 19?
Before anything, let's explain the root cause of most Error codes. When your game is launching and it suddenly crashes or is unable to finish its launch process Valorant returns you an error code. In a programming sense, the game has built-in exceptions that will work in certain cases. In our example today if Valorant detects a connection issue while launching it will return a VAL 19 Error Code.
This means that Valorant has a problem establishing a connection to the Riot Client. This is usually a local problem and some change in your PC/Laptop is causing it. Error Codes serve a purpose to help us locate the problem and solve it. If you've had this error code just recently, it is most probably because of the latest update as tons of people reportedly experienced this error code.
The most common reasons for this Error Code are:
A bad start/launch of the game has been performed
Corrupted Files after an update/installation
Windows Firewall is blocking access to the Game
You've changed your WiFi network recently
Your VPN is blocking access to the game
Before proceeding with the solutions for VAL 19, let's all have a humble moment and be jealous of our best Valorant Player Tenz.
Life is better with you by my side <3 pic.twitter.com/Tg7Vorg0yg

— kyedae (@kyedae) May 10, 2022
How To Fix Error Code VAL 19
Many reasons can cause your game to either not start or crash. Most of the time, a simple restart might solve the problem, but not every time. If restarting doesn't help, then there's an ongoing issue you must solve. Closing the game, won't end all of the Riot/Valorant processes in your system, and some of them might need a restart of their own.
Close all Riot-related processes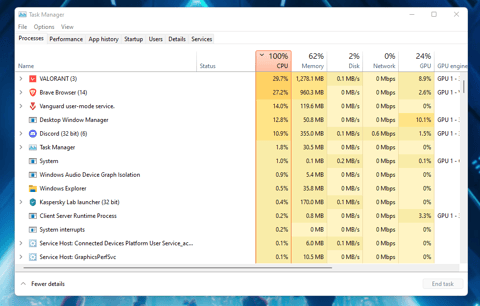 After initially closing the game open the Task Manager, go to Processes, and search for every process affiliated with Riot or Valorant. Close all of them and then try to open the game again.
In case you need more help, here's a more detailed walkthrough:
Hold CTRL + ALT + DELETE
Click on Task Manager from the options in the center
Make sure you have Processes selected
Search for every Riot or Valorant Logo processes
Right-click on them and select "End Task".
This way you are making sure every single process that helps Valorant launch doesn't malfunction and has its Restart.
Riot Anti-Cheat Related Problem
Anti-Cheat is a must-have process that is required to run Valorant. If by some chance you or your System closed that process, Valorant won't launch properly and it will crash. The most common fix for this issue is to restart your PC and when it reboots successfully, just launch Valorant again.
Repair Valorant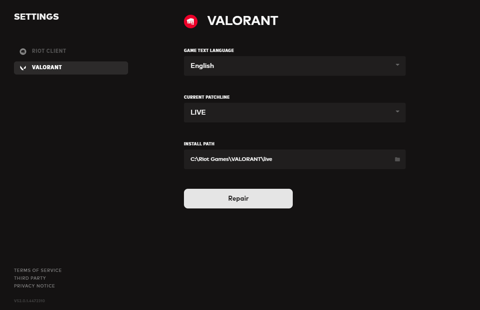 If the issue persists your game might be missing a file or two in its installation path. Luckily, Riot has an option to "Repair" the game. In the picture above you can see where this option is located, and what it looks like.
In case you need a walkthrough:
Open Riot Client
Click on the User Logo top-right
Afterward, click Settings
Select "Valorant" top-left
Click on the "Repair" button that's in the center
This option will check the installed files, and if any are missing or corrupted will delete or replace them.

Other Solutions
The solutions listed above are the usual ones used to fix this Error Code.
In case none of them work you can try to:
Whitelist Valorant in your Firewall
Completely reinstall the game
Change the install directory while installing
Check/Change your internet connection
Update your drivers
Update Windows
Reinstall Riot Client
That should be all for this article, and hopefully, some of these suggested solutions will work for you! In case you are having trouble uninstalling the game, check out our How To Uninstall Valorant? article to have a detailed step-by-step explanation.