You've received a gift card but don't know how to redeem it ? Don't worry, we got your back. In this article we will guide you through the process of redeeming step by step.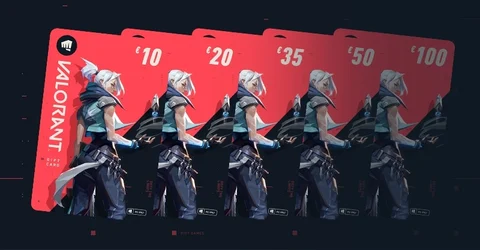 We are all in love with Valorant Cosmetics. They change our gameplay experience and make us feel special when shooting with their unique weapons style.
Valorant Gift Cards
Gift cards are a way to show gratitude and reward a person for their good deed. Even if it isn't a deed, and there's a special occasion like a birthday, gift cards are one of your options, especially if the person is a Valorant fanboy. Valorant HAS gift cards, and they can be bought digitally on several sites. If you are from the United States, Canada, Australia, or New Zealand, Amazon is the digital provider where you can acquire a gift card.
Except for Amazon, other resellers also sell gift cards redeemable in several countries. Besides the countries specified before in this article, gift cards are also available for LATAM (Latin America) and Turkey.
Redeemable Codes
Gift Cards are not the only codes that can be redeemable in Valorant for a particular value in return. Valorant also has several events throughout the year where they publish codes for the community that can later be redeemed. They come in the form of a promotional or season event and usually reward you with cosmetics from that event. The gift card codes that you receive must be redeemed from the country that the code is meant for. A gift card code bought for the United States cannot be redeemed if your PC IP is from somewhere else than the US. Gift Cards in Valorant are strictly for PC and for Valorant and cannot be redeemed elsewhere.
Redeeming The Gift Codes
If someone bought you a gift card, or you just bought it for yourself, congratulations!
In order to redeem the code, you will have to:
Open Valorant and click on the VP logo top right

Once you reach the Valorant Points Shop, switch to the "Prepaid Cards and Codes" on the top right side
Type or paste your code and click SUBMIT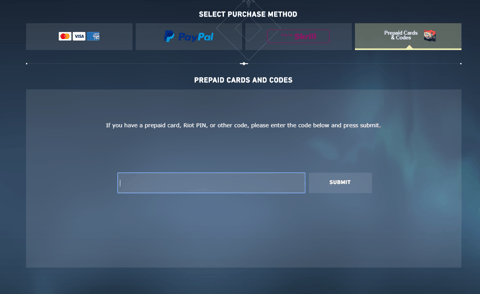 Once you finish the three steps successfully, the VP with the gift card's value will be transferred to your account. If you mistype the code, an error message will appear and ask you to check and retype the code that you have.
The code shouldn't have spaces and should be typed in the same format as it was received. The gift cards can be found in these values: $10, $25, $50 and $100. If someone is offering you a gift card with another amount, we suggest you buy elsewhere since it's most likely fake.
The common errors that occur when activating codes are :
THIS CODE DOES NOT APPEAR TO BE VALID – Usually, a mistake when typing out the code
THIS CODE APPEARS TO NOT BE PROPERLY ACTIVATED – This error message indicated that the code wasn't properly activated during the point of sale, if you get this Error Message, contact the merchant that you bought the code from and ensure that the gift card is activated properly
THIS CODE HAS ALREADY BEEN REDEEMED—Someone else (or you) already redeemed this code; if you bought it and got this Error Message, you should contact the merchant
YOU HAVE EXCEEDED THE MAXIMUM NUMBER OF CODE REDEMPTION ATTEMPTS – You've reached the daily limit of redeeming attempts; you will have to wait for around 24hrs before activating it again
THIS CODE IS NOT VALID IN YOUR REGION – You are trying to redeem a code from another region, and if that is not the case, it's suggested that you contact Valorant Support by submitting a ticket HERE.
This is all for the process of redeeming Gift Cards. If this article helped you and you successfully managed to redeem your card, Congratulations, and happy shopping!