The Neptune bundle is a neat skin collection without any finishers or special effects. It's getting it's own 2.0 version and Riot has announced that it's coming very soon, here are all the details for it.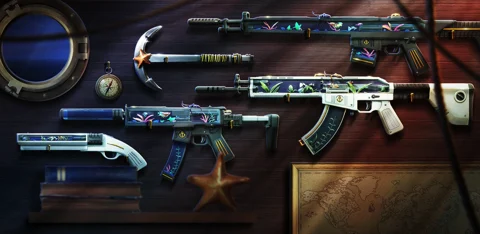 Valorant has been out for more than three years, and in that time period, Riot released a lot of skin bundles to satisfy any taste. All of the bundles have their own "theme", and almost anyone can find his preferred one in more than 50 bundles that have been published by now.
Neptune 2.0 Skin Collection: Skins & Release Details

There is no doubt that every bundle in Valorant is one-of-a-kind, regardless of whether there's a 2.0 or even a 3.0 version of one. Neptune is a sea-themed skinline that doesn't have any finishers but is quite popular among the players. It's a very neat and simple skin and apart from the design only has a very satisfying firing sound which is a reason enough to buy the whole bundle.
The 1.0 version had these weapon skins included:
Shorty
Spectre
Guardian
Vandal
Anchor (Melee Weapon Skin)
Starfish Gun Buddy
A 2.0 version of this skin bundle is coming and according to @Valorleaks on X, includes a Phantom, Bulldog, Odin & others. Since the 1.0 didn't have a Sheriff or Ghost, we can expect any of these as well. Neptune is a premium skin bundle, and as such we can expect the price to be the same/similar to the 1.0 which was 7100 VP or 1775 VP for the weapon skins except for the Melee one.
Neptune 2 is coming soon. Bundle will most likely include a Phantom, Odin, Bulldog, and others. | #VALORANT

— Mike | Valorant Leaks & News (@ValorLeaks) September 8, 2023
If you're into what the community thinks about this pending release, well, the news is they aren't so happy. While the Neptune bundle sure looks cool, a lot of players have the opinion that it's massively overrated and other skinlines deserve a 2.0 way before the Neptune bundle. The release date for the Neptune 2.0 is not yet published, but we can expect this skin line to be released in the following weeks so make sure to keep some money on the side if you're planning to buy the bundle.


For more content: