The Americas and Pacific region will face off once more for a spot in the LOCK//IN grand finals.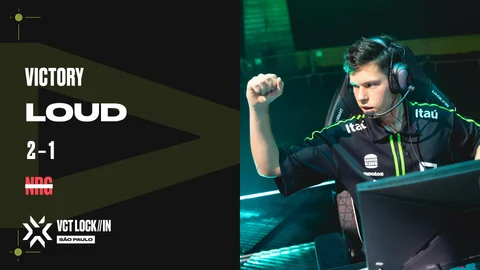 We're inching closer to the halfway point of Valorant LOCK//IN, with the Alpha bracket almost done, leaving us with only two teams to face off for a single grand finals spot: LOUD and DRX.
LOUD, the team that one might say is playing with the home-field advantage, has been outstanding throughout the tournament, beating Gen.G Esports, Karmine Corp, and now, NRG in the Quarterfinals.

Despite an initial stomp by LOUD, winning Split 13-3, the rest of the game was an absolute thriller, going to Overtime several times. First on Pearl, with NRG coming out on top thanks to an absolute MVP performance by Austin "Crashies" Roberts, accruing 29 frags.
After over an hour of play on Pearl, Fracture went even longer, with an exhilarating 18-16 score in favor of the Brazilian organization. Despite Crashies once again dominating the server in terms of kills, this time LOUD's team efforts and more impactful frags made sure they came out on top in the end.
DRX Keeps The Pacific Dream Alive
On the other hand, DRX completed a hard-fought battle against fellow VCT Pacific organization, Talon Esports. Despite not going to a single OT, you can tell it was a high-octane match based on how many kills the top fraggers fom each team got.
In total, two DRX players managed over 50 kills: MaKo (56) and BuZz (52). An impressive sum considering, as we've mentioned, none of the three maps went to overtime.
On the other side, garnetS managed 53 kills, meanwhile, foxz was just one kill away from joining the 50-frag club, sitting at 49 when it was all said and done.
In total, DRX lost Fracture 13-10 but came back swinging on both Ascent (13-6), and Icebox (13-10).
With these results, LOUD is set to play DRX on March 2 to see which team ends up going to the LOCK//IN grand finals.
For more content: