Don't miss out on this massive update to kick off Valorant's latest Act which comes with a new Agent and some quality-of-life changes!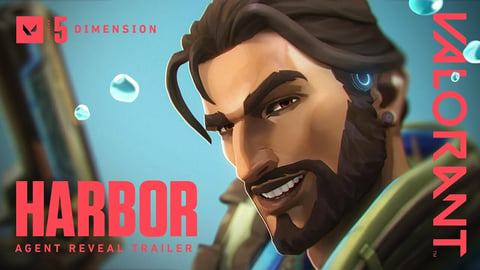 Valorant patch 5.08 is here and is packed with content. We've talked about most of it already, including the highly anticipated release of Agent 21, Harbor, the latest Controller to join the tactical shooter.
Naturally, the patch also brings a new battle pass with the start of Episode 5 Act 3, so if you want to check out all the weapon skins we have a dedicated article right here.
Still, there are some changes worth reminding you of, so let's get down to the nitty gritty and tell you what patch 5.08 brings to the table.
Valorant Patch 5.08 - Full Notes
New Agent Harbor goes live
Bugs
Agents
Fixed an issue where friendly versions of area-damage abilities could overwrite enemy versions of those abilities to deal less damage
Fixed a bug where Viper's Toxic Screen could have small gaps around ground level in specific map locations
Gameplay Systems
Fixed various minimap bugs:
Ally position indicators would persist on the edge of minimap even after ally came back into view
In some cases, KAY/O's Suppression Blade position indicator could appear twice on the minimap
Opening the larger map (defaulted to Caps Lock and 'M') during round transition could cause spawn barriers to appear as a single pixel
"Recently Seen Enemy" icon indicators could sometimes update their position without the enemy being visible
Maps
Pearl
Fixed a sliver line of sight from A Main to A Link
And there you have it! We'll have more stuff prepped as we get familiarized with all the changes in the coming days.
For more content: