Being one of the best in the world won't exclude the Singaporean from serving military service. What will his plans be, and how will PRX deal with it is what you will find out in this article.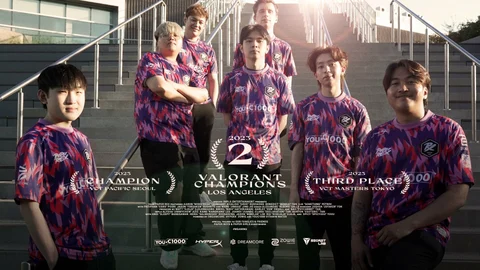 Paper Rex was one of the teams that surprised everyone and bursted onto the stage like winners. They made it into the finals of this year's Champions 2023, and came up short against Evil Genisues to finish 2nd.
Finishing second is an achievement to be happy about, but that won't last long. Their prodigy star player Jinggg announced that Valorant Champions 2023 will be his very last event with his PRX squad before he joins the Singaporean mandatory military service.
16-Year-Old Prodigy Forced Off Of Valorant To Join Military
This is probably one of the saddest headlines anyone has written. Jinggg isn't the only one in this situation as Bleed Esports's "juicy" is another countryman who will join military and temporarily be out of competitive Valorant.
Riot confirmed i cant play franchise because of age so I decided to go serve national service first, see you guys next time

— BLEED juicy (@juicyVALO) August 27, 2023
This was not a forced decision and he intentionally joined as he is too young to join a franchised team. His thought process is basically that it's better to get rid of his mandatory service as early as possible to be able to be back to competitive Valorant as soon as possible.
To be able to play in the Valorant Franshised leagues a player needs to be at least 18 years old. "juicy" is currently 17 and will have a valid age once he finishes his military duties. Conscription in Singapore lasts for 2 years, which means that by the time he finishes it he will be 19 years old which is a perfect age to come back to pro Valorant.
What Is Next For Them
Two years is one heck of a time, especially if you're an Esports athlete. Both of these players are in their best form, and being out of the game will totally put them off-form. Their competitive roadmap starts from the starting line once they come back, and their past achievements won't mean much. This means that they will have to hustle pubs again, get to their current rank, and tryout with different teams until they finally get into one.
These are their achievements so far:
Prize Winnings: $190,521
Best Results:

VCT 2023 Champions Los Angeles - 2nd Place (approx. $80,000)
VCT 2023 Masters Tokyo - 3rd Place (approx. $25,000)
VCT 2022 Stage 2 Masters Copenhagen - 2nd Place (approx. $24,000)
Prize Winnings: $21,562
Best Results:
VCT 2023 Ascension Pacific - 1st Place (approx. $4,000)
Penta Pro Series - 1st Place (approx. $3,600)
Skyesports SEA Championship - 1st Place (approx. $3,000)
Paper Rex will probably get "Cigarettes" on the active squad together with "something", and try to work things around with that five-stack. And as far as Bleed Esports's go, there is no roster info yet as they are trying to figure things out in the off-season.

For more content: