It has been known that Riot Games was planning on releasing a Valorant mobile version for a while now. Valorant mobile has just entered its testing phase, so let's see what's all the fuss about!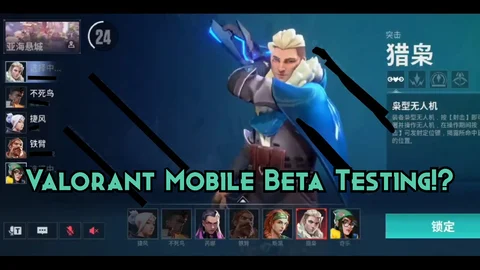 Not everyone has the money for expensive gaming PCs. Some people resolve to mobile gaming, and Riot Games listened. They plan on bringing the tactical shooter Valorant and the Vandal to mobile devices. And recently, new leaks have appeared that Valorant mobile has entered its testing phase! So let's take a look at the mobile leaks, shall we?
Valorant Mobile Beta Testing Phase Leaks
With each new game, Riot Games comes up with, they firstly push it into the testing phase across multiple countries. And Valorant mobile has just started its small-scale testing phase in China.
First few #VALORANT Mobile screenshots! The game is now in a testing phase. pic.twitter.com/3CVHuUkfky

— ValorFeed (@valorfeedgg) April 7, 2022
Comparing Valorant mobile to the previous anticipated Wild Rift, we can expect to get a limited amount of agents and maps at the beginning of its release. But players aren't patient and want access to the Valorant mobile beta right now, so how can you access it?

How to Access Valorant Mobile Beta?
Although Valorant mobile is in its testing phase, we can expect beta testing in the near future. And it seems like players can access Valorant mobile beta by an invitation system as leaked from Valorleaks on Twitter. So if you've got a friend that has access to the beta, you could probably join in too! But consider the fact that the game will test out regionally, so depending on where you live you may have to wait and see if you can even access it.
Although Mobile is in testing right now, remember that there will be future beta where they could be doing an invite system. It does not look like there will be crossplay. | #VALORANT pic.twitter.com/R4yUZyAk2x

— Valorleaks | Leaks & Info (@ValorLeaks) April 7, 2022
Riot Games isn't planning on making Valorant mobile crossplay. So, the experience with the Phantom will be exclusive only to mobile users. IOS users may have to wait though, as it seems like Android users will get the better hand. Android or not, some players won't even access the mobile beta testing, so the question remains: when is Valorant mobile going to be officially released?
Valorant Mobile Release Date
The exact date of Valorant mobile's release date is unknown, but it should be coming out around late 2022-2023. In an interview done with the executive producer Anna Donlon, the release date was revealed to be in "year two". This is the second year of Valorant's official release, which was back on June 2, 2020.

So, what do you think? Will you be top fragging on Valorant mobile? If you don't have a high-end PC, then this opportunity is for you! Until then, you should make the ultimate decision for mobile: Vandal or Phantom?